AUSA's TauruLift T204H Is a Big Hit in Northern Europe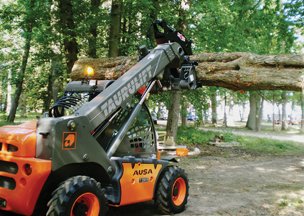 AUSA's telescopic forklift truck, TauruLift T204H, is awakening a great deal of interest in countries in the north of Europe. The response from distributors and customers is a guarantee for heavy penetration in several sectors over the coming months.
The compact all terrain forklift truck with an extendable boom, folding cab and hydrostatic transmission, also known as the T204H, is convincing local workers. More specifically, Sweden is the country in which the telescopic forklift truck is capturing the interest of many professionals in search of machines with important advantages that "allow us to be more competitive to be able to keep our head above water during these difficult times" in the words of Josep Soler, AUSA export manager.
The new telescopic forklift truck is captivating due to its small size, load capacity, visibility, easy gear change, and folding cab. Although AUSA is a well-known brand in the sector in Sweden, it is the first time that it is launching a telescopic forklift truck.
Sweden is a country where wheel loaders are widely used. "Due to the features that we are launching now, professionals can carry out similar work, especially in the agricultural sector, at a lower cost and with greater manoeuvrability", states Josep Soler. In his opinion, the northern market "appreciates top-quality machines and is open to new ideas like this one". It also attaches great importance to the after-sales service and proper distribution, something that fits in with "our company's founding spirit".
Source: AUSA