Intermat Preview
Cummins will introduce the next generation QSL9 engine platform ready to meet EU Stage IIIB and EPA Tier 4 Interim off-highway emissions at Intermat.
The 8,9?l QSL9 will be showcased as a fully integrated air-intake to exhaust aftertreatment system with all Tier 4 technology enablers designed and manufactured by Cummins. Cleaner, more efficient combustion reduces QSL9 fuel consumption by up to 5%, dependent on rating.
The 8,9 l QSL9 engine effectively replaces the 8,3 l QSC and offers an even more attractive power solution for equipment manufacturers with lower operating costs.
The QSL9 utilizes the same Stage IIIB / Tier 4 emissions architecture as previously announced for the QSB6.7 and QSX engine. An integrated Cummins Particulate Filter replaces the exhaust muffler.
Air intake flow for the Tier 4 QSL9 features a high performance Cummins Direct Flow Stage IIIB air filter by Fleetguard® providing a smaller installation profile than typical engine air filters, yet retaining the same filtration efficiency.
Source: Cummins Inc.
The year 2011 will be significant for engine manufacturers and their customers. This is the year when the Stage IIIB and Tier 4i emission legislations for non-road applications come into effect, specifying NOx levels as low as 2,0 g/kWh. The new engine platform, to be launched at Intermat enables Scania customers to prepare well in advance for meeting the new regulations.
With the new engine platform, based on the successful range of modular truck and bus engines, Scania has secured control of all strategic steps in development and performance control. Basic engine development and manufacturing, as well as the development of engine management, fuel injection and emission control systems are all carried out in-house.
This strategic move is motivated by demands and targets for performance and fuel economy, as well as to secure consistent environmental performance, robustness and convenience of operation.
The new engines retain traditional Scania characteristics like individual cylinder heads, camshaft located high in the block and rear-mounted timing gears. They are available in I5, I6 and V8 configurations, in 9,3 l, 12,7 l and 16,4 l displacements, with power ratings from 275 hp to 700 hp.
Source: Scania

Fordia, a Canadian manufacturing company, specializes in the making and distribution of diamond tools, equipment and accessories for the mineral exploration industry. For over 30 years, they have also been supplying geotechnical tools. As demand increased for this type of service, Fordia saw great potential to expand in the market. They are now inaugurating their first solely geotechnical office – Fordia Europe, in Paris, France.
"Fordia's desire to offer quality products that really meet geotechnical companies' needs is real – and the company is taking serious means to get there," says Emmanuel Baudoux, manager of Fordia Europe. "The opening of our office is a proof that the company is ready to invest to better meet geotechnical demand, and that it has the capacity to adapt. Plus, Fordia Europe's first year results are absolutely encouraging and are a positive sign that we are heading in the right direction."
Source: Fordia
The Can Bus communication protocol, that was originally developed for application in industrial systems, has now developed on many automotive and mobile fields, but on hydraulic drilling rigs it is still almost not existing.
Fraste Spa has applied the Danfoss "PLUS?1" data communication system to the Fraste MULTIDRILL XL drilling rig making possible the dialogue between the drilling rigs systems with the John Deere diesel engine control unit (ECU).
The system allows the control of hydraulic and mechanical functions giving the user the opportunity of a high customization of the use of the drilling rig, besides the comprehensive monitoring of the various components through a colour graphical display studied by Sauer-Danfoss.
Source: FRASTE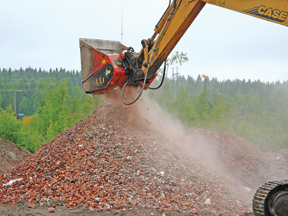 ALLU designs, manufactures and markets several attachments for wheel loaders and excavators used in the environmental and earthmoving technology fields. Main products are the ALLU Material Processing Attachment and Stabilisation System.
At Intermat, ALLU will have stands in both the outside and inside areas. Demos will run for the duration of the show, so every visitor should have a chance to see the ALLU range in action.
This year Intermat will see the International launch of a new series of attachments from ALLU.
Source: ALLU Finland Ltd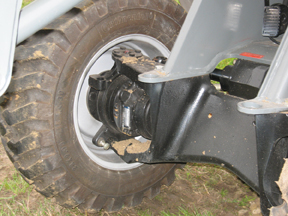 Poclain Hydraulics completes its range of hydraulic motors for steering wheels with its new MG02 motor.
The compact and lightweight MG02 motor easily integrates into the chassis of industrial vehicles and shortens their turning radius thanks to its significant swivel angle.
Source: Poclain Hydraulics

Intermat 2009 will be held in Paris, France, from April 20 - 25, 2009