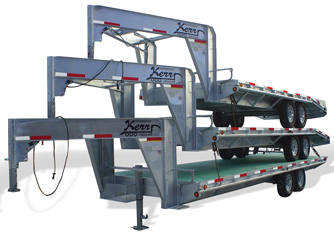 Galvanized Kerr Trailers
All Kerr Trailers models are now available with hot dipped galvanizing treatment.
Since July 2006, Kerr Trailers has been analyzing and evaluating the results of numerous units produced with this zinc treatment. The results are more than satisfactory.
Kerr Trailers will offer this option on all standard and custom models up to a total length of 14 m.
The advantages are clear and numerous: galvanizing provides exceptional corrosion protection, is extremely resistant to impacts, with a bond strength of 3600 psi, is nearly maintenance free and extends life-span of the trailer. Galvanizing will also maintain the resale value of the trailer.
Brochures explaining the galvanizing process are available on the Kerr Trailers website.
Kerr Trailers, reliable products built to last.
Source: Kerr Trailers Inc.