Kubota Adds Versatility, Power and Productivity to Popular B-Series Compact Tractors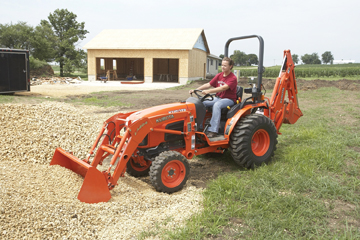 Kubota introduces four new models to its popular B Series compact utility tractor line. The new Kubota B2320, B2620, B2920 and the B3200 tractors are versatile, powerful and productive, featuring more horsepower and hydrostatic transmission with three-range transmission speeds to choose from, giving the operator enhanced power and control.
The B2320, B2620 and B2920 come equipped with 3-cylinder liquid-cooled diesel engines, while the B3200 features a 4-cylinder engine. The entire series offers the E-TVCS Kubota engine for increased power, high torque, cleaner emissions and low noise and vibration. The three-range transmission models lets operators find the right speed to suit their task. Maximum traveling speed ranges from 18 km/h to 19,8 km/h, depending on model.
All models in the series are equipped with a variety of safety features including: multi-reflective headlights for better visibility, backlit dash panel for tracking vital functions, and a slanted metal hood that offers a clear view of front loader operations. A foldable roll-over protection structure (ROPS) is standard. The B-Series also provides the operator with a high-back seat and large flat deck platforms for more leg room and a wider step area.
Kubota's B2320, B2620 and B2920 standard tractors are performance-matched with Kubota's LA304/364 front loaders and BH65 backhoe. The B3200 is performance matched with the LA504 front loader and BH76 backhoe. The LA504 loader includes an optional Kubota quick coupler for easy attach/detach of attachments. The series is equipped with an optional 4-position loader valve and lever control that is integrated with the tractor and ergonomically positioned for easy and quick use of a front loader and other front implements. These tractors also feature a new backhoe reversible seat (optional with backhoes) that swivels from front to back to provide more leg room for backhoe operation. BH65 and BH76 backhoes are also available with an optional 6-position mechanical thumb.
Source: Kubota Tractor Corporation