PRIMAAX EX Air Suspension for Vocational Truckers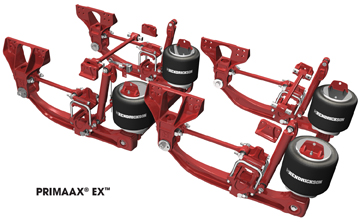 For expanded application capabilities, Hendrickson recently launched the PRIMAAX® EX™ system, an enhanced version of the PRIMAAX® heavy-duty, vocational truck air suspension.
PRIMAAX EX improves durability and performance while delivering a substantial weight savings alternative to competitive systems, report officials of Hendrickson Truck Systems Group.
Refinements in the PRIMAAX EX system include enhanced joint integrity and durability, improved handling, increased air spring capacity, greater disc brake compatibility and improved resistance to torque rod bushing walk-out.
Launched in 2003, the job-proven PRIMAAX air suspensions quickly gained the trust of heavy-duty truckers in a variety of vocational and construction applications including concrete mixers, dump trucks, heavy-haul tractors, refuse vehicles, truck-mounted cranes and logging trucks.
The PRIMAAX EX system features cast austempered and shot-peened ductile iron support beams that integrate the attachment points for greater reliability. Hendrickson manufactures the beams and supplies them as an engineered sub-assembly to ensure control of product specifications for optimal performance and durability.
PRIMAAX EX geometry features a new frame hanger and torque rod configuration. This enhanced geometry provides increased roll stiffness and reduced roll steer for improved handling. In addition, suspension-induced driveline vibration is significantly reduced with PRIMAAX EX compared to competitive trailing-arm air suspensions.
Expanded offerings of the longitudinal torque rods help provide extended bushing life, ease of serviceability and improved compatibility to package with disc brakes.
Featuring improvements to the air spring piston shape and beam interface, the new PRIMAAX EX air springs lift and support the load with less air pressure. Furthermore, packaging improvements help reduce potential damage to the air spring.
PRIMAAX EX features superior ride, handling, stability and suspension articulation, proving ideal for versatile on- and off-highway applications.
Source: Hendrickson