Aluminium Air End for VMAC's 150 CFM Underhood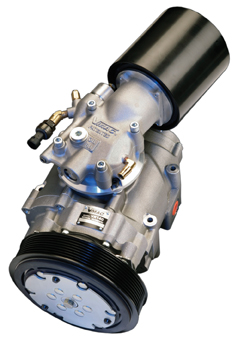 The VMAC UNDERHOOD Air Compressor System is the lightest 150 CFM Air Compressor in North America, in part to a newly engineered aluminum air end featured within every system.
The 55LB air end delivers up to 150 CFM and 175 psi of instant air-on-demand. A complete air solution, the UNDERHOOD air system includes an air/oil separator tank, mounting brackets, compressor, and cooler, as well as an idle controller built to the work truck. By mounting the air compressor underneath the hood, owners save valuable deck space, the hitch, and trips to the worksite. The aluminum shift has not only reduced overall system weight and increased product quality; it also contributes to shorter lead times and faster delivery.
Combined with the new aluminum introduction, the UNDERHOOD Air Compressor delivers significant weight and space savings by eliminating the need for a secondary motor or air storage tank. Belt-driven by the vehicle's engine, the oil-injected rotary screws at the center of the UNDERHOOD air compressor spin at high speeds, forcing hot, compressed air and oil into a separator tank beneath the vehicle. This tank removes oil and particulates, delivering oil-free compressed air to your air tools. Oil is re-circulated to a heat exchanger, which works with the truck's cooling system. Cool, clean oil is then recycled back to the air compressor. As your tools need more air, an electronic throttle control increases RPM to produce more CFM, getting the job done faster.
The system has worked for hundreds of construction, utilities, public works, and mobile mechanic contractors across North America, and is supported by a dealer network of over 300 locations.
Source: VMAC