Lumeta® Completes First US Commercial Rooftop Installation of PowerPly™ Solar Modules on the Musical Instrument Museum in Phoenix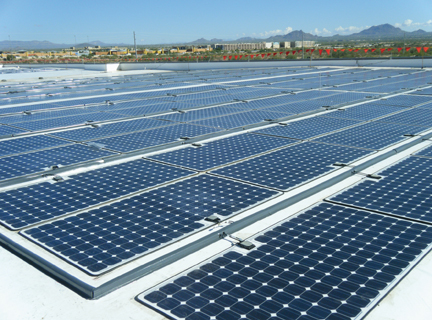 Lumeta, Inc. recently announced the installation of a 260kW PowerPly photovoltaic (PV) solar system on the rooftop of the Musical Instrument Museum (MIM) in Phoenix, Arizona. This represents the first US commercial installation of the lightweight, roof-integrated PowerPly photovoltaic module.
"We are delighted to partner with MIM on this PowerPly installation. PowerPly attaches directly to the roof membrane eliminating the need for roof penetrations or heavy ballasting, typical of conventional systems," said Jonathan Pickering, general manager of Lumeta. "We were able to complete the installation in less than half the time required for a conventional system, minimizing disruption to the museum."
"Our customers want to utilize solar electricity generation in order to maximize energy savings but they cannot afford any risk to roof system integrity," said Tim Davey, CEO of Lumeta's parent company, DRI Companies. "The requirement to safeguard a museum collection is clear and owners of data centers, distribution centers, commercial retailers and schools all echo the same concerns when selecting solar technology. Increasingly, commercial building owners recognize the roof integrated PowerPly modules as the safe choice for their buildings. PowerPly is not only the safe choice for the long term functionality of their roof system, but for reliable and efficient power generation, given the use of proven crystalline Si technology."
PowerPly combines a DuPont® Tefzel® (ETFE) front sheet and a lightweight composite substrate with high-efficiency monocrystalline silicon solar cells to maximize power density, eliminating the glass and aluminum frame structure of conventional modules. PowerPly is designed for low-slope roof applications; it adheres directly to flat surfaces without racking, reducing system weight and eliminating wind loading issues. With no roof penetrations, PowerPly prevents water leaks and costly roof maintenance while significantly reducing installation time and balance of system costs. PowerPly has received both IEC and UL certifications and has qualified for a Class B fire rating. PowerPly is currently in volume production and shipping commercially.
The Musical Instrument Museum (MIM) is a significant addition to the worldwide community of museums devoted to music making and musical culture. MIM welcomes the young and the old, the uninitiated and the knowledgeable, to explore and experience the rich diversity of the world's music and musical instruments. MIM collects and displays musical instruments and artifacts from every country in the world, preserving, protecting, and sharing these gifts with future generations. Museum guests enjoy a close encounter with the instruments themselves, enhanced by state-of-the-art audio and video recordings that bring to life the sounds and sights of these instruments as experienced in their cultures of origin.
Source: Lumeta, Inc.