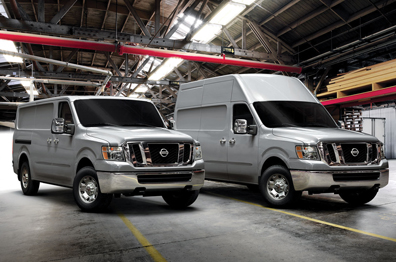 Nissan Canada Announces Pricing for NV Commercial Van Lineup
Nissan Canada, Inc. recently announced at the Montreal Auto Show that the 2012 Nissan NV, the company's first entry into the commercial vehicle market in Canada will start at $30,998. The NV is the culmination of 75 years of Nissan commercial vehicle experience in the global marketplace.
The 2012 NV, which was designed and conceived as a solution to the needs of today's commercial van customers, will be produced at Nissan's Canton, Mississippi assembly facility. It is scheduled to go on sale through a select network of Nissan Commercial Vehicle dealers nationwide beginning in spring 2011.
"Nissan is one step closer to entering an entirely new segment in the Canadian marketplace and given the unmatched quality and utility of our commercial vehicle line-up, along with our proven track-record globally, we are poised for success," said Allen Childs, president of Nissan Canada.
The NV lineup offers durable body-on-frame construction and choice of standard roof or industry-exclusive high roof configurations. Models include the NV1500 with standard 4.0-litre V6 engine, the NV2500 HD with a choice of 4.0-litre V6 or 5.6-litre V8 and the NV3500 HD with standard 5.6-litre V8. All 2012 NV models are equipped with a 5-speed automatic transmission. The NV is available in two grades, S and SV, each delivering smart functionality through a combination of the comfort and roominess of a pickup with the utility of a cargo van.
Scheduled to launch in spring 2011, the Nissan NV is available in three models, NV1500, NV2500 HD and NV3500 HD, and in two roof configurations – Standard Roof and High Roof. The NV is the first commercial van to offer rugged body-on-frame construction combined with a High Roof, offering most users the ability to walk, stand and work in the cargo area.
The NV's rugged, masculine design combines a full-length hood with access to the engine for service and maintenance, along with signature Nissan styling cues such as large headlights and vertical grille. The broad bodysides project a serious commercial vehicle appearance and provide ample room for company logos and advertising messages. The tall, wide doors offer easy access to the cargo area.
Inside the cab is a roomy comfortable interior with wide, supportive seating and an expansive instrument panel. The passenger seat includes a segment-exclusive fold-down feature, providing a convenient worktable. An available lockable center console offers innovative storage compartments and space to hold binders, hanging file folders and a laptop computer. Other convenient storage spaces include a wide overhead console (available with High Roof models), underseat storage drawers (NV2500 HD and NV3500 HD models) and large door pockets.
The NV also provides exceptional utility, thanks to a long, wide cargo floor, square-top wheelwell housings and nearly vertical sidewalls. Along with maximizing cargo space, the sidewalls accommodate aftermarket storage systems without excessive modification. The cargo area also features a full-length inner panel to prevent cargo from denting the vehicle's outer skin (SV models). There are also multiple integrated reinforced mounting points for durable installation of cargo customization equipment.
Powering the rear-wheel drive Nissan NV is a choice of two powerful yet fuel-efficient engines – a 4,0 l V6 rated at 261 hp and 281 lb-ft of torque, and a 5,6 l V8 rated at 317 hp and 385 lb-ft of torque. Both are mated to a standard 5-speed automatic transmission.
Source: Nissan Canada inc.