Nominations
André R. Ruest, directeur des ventes Volvo chez Camions Lourds de Montréal, annonce avec plaisir la nomination de Jean-François Gélinas au poste de représentant des ventes.
Il sera basé à la succursale de Dorval, et aura la responsabilité des secteurs, Montréal-Ouest, Vaudreuil et jusqu'à la frontière ontarienne.
Monsieur Gélinas compte plus de 15 années d'expérience dans le domaine du camionnage en tant que représentant des ventes, conseiller de location, et représentant aux flottes.
Source: Camions Lourds de Montréal,
514-735-5111

---
Le 21 janvier 2011, lors de l'assemblée générale annuelle, les membres de l'Association des Maîtres Couvreurs du Québec (AMCQ) ont élu André Chatel à titre de président de l'association. Monsieur Chatel est président des Entreprises Chatel inc., une entreprise spécialisée dans les travaux d'étanchéité notamment pour des travaux de couvertures commerciales, industrielles et institutionnelles.
Monsieur Chatel pourra compter sur une solide équipe pour le seconder au comité exécutif de l'AMCQ, soit : le président sortant, Pascal Lapierre, de Lacasse & Fils Maîtres Couvreurs inc.; du 1er vice-président, André Boucher, de Bellemare Couvertures inc.; du 2e vice-président Michel Poissant, de Ernest Hotte inc.; du trésorier Sylvain Blanchard, de Couvertures Blanchard & Fils; du secrétaire Marc Breault, des Entreprises Omer Breault; et du conseiller spécial, Jacques Veilleux, des Entreprises J. Veilleux & Fils inc.
Source : Association des Maîtres Couvreurs du Québec
---
Aecon Group Inc. annonçait récemment que Scott Balfour a démissionné de la présidence et du conseil d'administration d'Aecon depuis le 31 janvier afin de relever de nouveaux défis. Jean Michel Beck, président du conseil et chef de la direction d'Aecon, assumera les fonctions de monsieur Balfour.
Source: Aecon Group Inc.
Appointments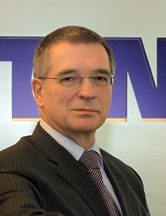 Eaton Corporation announces that Egon Lechner has been named solutions architect for the Hydraulics Group.
In this role, Mr. Lechner will work closely with Ruppert Russionello, vice president – Global Markets, on global segment needs and William VanArsdale, president – Hydraulics Group, on business development.
He will continue to be based in Baden-Baden, Germany, and will be responsible for translating the business needs of Eaton's global market segments into technical requirements, as well as working across the business to identify targeted customer solutions.
Egon Lechner joined Eaton in 2004 from Bosch Rexroth Industrial Hydraulics where he served in a number of positions of increasing responsibility in sales, operations and research and development. He holds graduate and doctorate degrees in mechanical engineering from the University of Karlsruhe in Germany.
Source: Eaton Corporation
---


CDE Global has announced the appointment of Terry Ashby to the board of directors following the company's recent annual general meeting. Mr. Ashby moves to the new position having been general manager for CDE with specific responsibility for their operations in the British market for the last 10 years.
Having worked in the quarrying and construction materials industry for over 30 years Mr. Ashby is one of the most respected and well known personalities within the industry in the United Kingdom and beyond. In addition to the extensive knowledge of the British market he has also been pivotal in the development of many export markets for CDE having spent considerable time in North America and the Middle East.
In his new role Mr. Ashby will work closely with the CDE Global sales team and growing distributor network to ensure the continuing expansion of the company both within existing markets and strategic export markets outside Ireland and the U.K.
Source: CDE Global Ltd