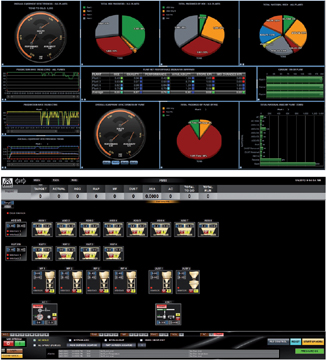 Astec Highlights New Controls
at World of Asphalt
Astec, Inc., an Astec Industries company, will have a controls sales manager in its booth during the World of Asphalt, March 13-15, 2012 in Charlotte, North Carolina, to present two new products from ASTEC Controls.
The latest plant control system from Astec Controls is the PMIII. This PLC-based new control system is comprised of individual modules for burners, silos, motor controls, and blending and loadout. The modules can be installed together as a package or individually, maximizing the options for customizing the controls at an asphalt facility. Built-in diagnostics save time when service is required.
The innovative new Data Acquisition System Hub, or DASH, provides a real-time snapshot of operations. DASH gathers information from multiple plants and makes it accessible via web browser, or flash compatible devices such as Android tablets and smartphones. With DASH installed, trends can be analyzed quickly throughout an operation in order to make more effective management decisions. DASH is compatible with ASTEC control systems TCII, PMII and PMIII.
Both new Astec Controls products are designed by ASTEC software engineers and will be installed, supported and serviced by Astec Controls engineers and Astec Service.
Source: Astec, Inc.