Bobcat Celebrates 25 Years of Compact Excavators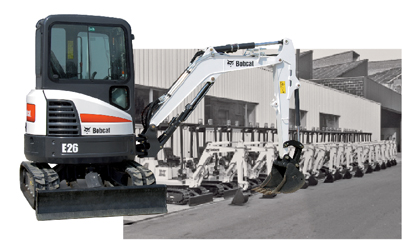 In 2012, Bobcat celebrates 25 years of success in the compact excavator market. From what began as an important diversification for Bobcat as the premier manufacturer of skid-steer loaders, the last 25 years have seen the company evolve to become one of the world's leading compact excavator manufacturers and lay claim to being the global leader in compact construction equipment.
"We are very proud of our achievements in the compact excavator market over the last 25 years. This is a tribute to the tremendous efforts and commitment of our salesforce and distribution network worldwide. Most importantly, we thank all our excavator customers, who have demonstrated confidence in our products and expressed their loyalty to the Bobcat brand," said Scott Nelson, president for the Europe, Middle East and Africa (EMEA) region at Doosan Infracore Construction Equipment.
The story of the Bobcat compact excavator began in 1987 when the brand first appeared on machines sourced under an OEM agreement. Demand was so strong, particularly in Europe, that the decision was made to design and manufacture the company's own line of excavator products. This led to the debut in October 1988 of the company's first compact excavator product, built in collaboration with a Japanese manufacturer and introduced to European dealers at Da Balaia in Portugal. In 1989, Bobcat began production of its own line of compact excavators at the company's plant in Bismarck in North Dakota, USA.
In 2001, Bobcat acquired Superstav s.r.o., at the time a manufacturer of compact loader backhoes based in Dobris in the Czech Republic. This acquisition was an important stepping stone to establishing a manufacturing capability in Europe for Bobcat compact excavators, compact loaders and attachments.
Source: Doosan Infracore Construction Equipment EMEA