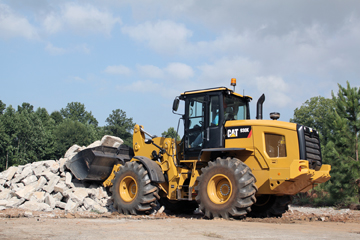 Caterpillar® at World of Concrete 2012
The Caterpillar display at World of Concrete 2012 encompassed 465 m2 of prominent floor space in the Central Hall and featured a range of new earthmoving and lifting machines making their first public appearance, along with a variety of new work tools and the exclusive new Cat® CT660 Vocational Truck in dump- and mixer-body configurations.
The new Cat K Series Small Wheel Loaders are redesigned to deliver class-leading comfort, performance and fuel efficiency. They use the Cat C6.6 ACERT™ engine, which meets Tier 4 Interim emission standards and can deliver fuel savings of up to 30%, compared with H Series models. The new loader linkage blends the power of Z-bar linkage with the versatility of Cat VersaLink™ or IT linkages for superior performance with buckets or forks. Featuring a new Intelligent Hydrostatic drive system, K Series models are equipped with a front-axle differential lock, new cooling package, and new operator's station with automatic climate control.
The new Cat K2 Track-Type Tractors are designed for superior performance in utility and finish-grading applications. Powered by the Cat C4.4 engine, which meets Tier 4 Interim emission standards, these new models feature hydrostatic drive and a new Traction Control system that reduces track slip during maximum load conditions. The new Stable Blade system complements the operator's blade-control input, and a new Eco Mode system can improve fuel economy up to 10% with appropriate reductions in engine speed. Options include ventilated seats and heated control handles.
The new E Series Compact Radius (CR) Mini Hydraulic Excavators models feature new engines that meet Tier 4 Interim emission standards and refined auxiliary-hydraulic systems that provide adjustable flow rates, pre-set work-tool flows and continuous-flow capability. Secondary auxiliary-hydraulic controls are integrated into new ergonomic joysticks, and the implement hydraulic system features a new economy mode. A new monitoring system with the COMPASS digital display panel simplifies operator interface with new control features, including an anti-theft feature.
The new Cat D Series Skid Steer Loaders and Compact Track Loaders are large-frame models built to take on the toughest digging applications and handle the largest work tools. The new D Series models use a more powerful, Cat C3.8 engine that meets Tier 4 Interim emission standards and feature a 19% boost in lifting force. The XHP models are the largest and most powerful models of their type ever produced by Caterpillar, having an auxiliary-hydraulic flow of 150 l/min that produces 22% more hydraulic horsepower, compared with C Series models.
The new Cat F Series Backhoe Loaders are redesigned center-pivot models that deliver enhanced performance, visibility, durability and serviceability. The new models use the Cat C4.4 engine, which meets Tier 4 Interim emissions standards and are rated at 87 to 106 hp. The F Series models feature a new loader linkage that provides greater lift and dump heights, as well as increased lift capacity. Specific-model enhancements include an electronic torque limiter for improved hydraulic performance and power management, new torque converter for improved roading characteristics and power-boosted brakes.
The Cat TL1255C Telehandler, the largest machine in the new C Series range, has a maximum lift capacity of 5443 kg and a maximum lift height of 16.6 m. The TL1255's Cat C4.4 ACERT™ engine, meets Tier 4 Interim emissions standards while developing 142 hp. It is specially designed for telehandler applications and can accommodate B20 biofuel. The TL1255, with a top speed of 32.8 km/h, features a simultaneously extending boom, new Cat 4F/3R powershift transmission with clutch modulation, and new styling and color scheme.
Caterpillar will also be exhibiting at Intermat 2012.
Source: Caterpillar