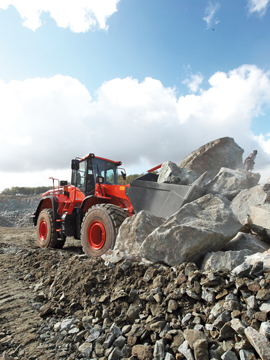 Doosan New Generation Large Wheel Loaders at Intermat
At Intermat, Doosan Infracore Construction Equipment is launching the new generation DL300-3, DL350-3, DL420-3, DL450-3 and DL550-3 large wheel loaders. Powered by Scania SCR diesel engines meeting the Stage IIIB EU emissions regulations, the new large wheel loaders combine high engine power output with new ZF transmissions and several other features to minimise fuel consumption and provide exceptional performance, ease of handling, serviceability, durability and significantly enhanced operator comfort.
With bucket capacities ranging from 3.0 to 5.5 m3, the new Doosan large wheel loaders are intended to meet a wide range of material-handling needs from loading and transporting granular material (such as sand and gravel) to industrial, mining and quarrying applications.
The DL300-3 and DL350-3 wheel loaders are driven by the 9 l Scania DC09 SCR 5-cylinder diesel engine, whilst the DL420-3, DL450-3 and DL550-3 models are powered by the larger 13 l Scania DC13 SCR 6-cylinder diesel engine.
Many of the features of the new generation large wheel loaders have been developed to optimize fuel efficiency. SCR technology reduces fuel consumption by about 10% compared to similar size machines with EGR technology. Resale is also better as it is easy to reset to Stage II engines for use in emerging markets.
The new large wheel loaders have three engine working modes: ECO, NORMAL and POWER, to adapt the machine to different applications, with different engine speeds and gear steps according to the working mode engaged. With the 'Power-Up' function, the operator can manually adjust to the next highest working mode by applying a full stroke of the accelerator pedal. With this function, the operator can travel in moderate NORMAL mode and switch to POWER mode when it is really needed, such as when taking material from a pile. This capability helps to reduce fuel consumption. The ECO Bar provides information about fuel consumption in relation to machine performance in real-time, allowing the operator to select the driving profile for the best fuel efficiency.
All new generation Doosan large wheel loaders are equipped with load-sensing controlled, variable hydraulic piston pumps, improving performance and reducing fuel consumption. With load sensing, the hydraulic pumps receive a signal from the MCV informing how much oil is needed. This helps to save on engine performance.
The new ZF 5-gear transmission improves the transfer of power from the engine to the wheels and contributes significantly to the overall reduction in fuel consumption. The change from four to five gears provides better response and acceleration, especially on slopes. Engine speed variation is less thanks to smaller gear steps, and lower engine speed throughout the whole drive range reduces fuel consumption. Thanks to higher shift quality, noise levels are lower while driving performance and productivity have been increased. A lock-up-clutch also helps to reduce fuel consumption.
New ZF limited slip Type II differential axles provide more durability and a longer lifetime. Rolling resistance for the axles is also reduced, improving traction and decreasing fuel consumption. As an option, customers can choose ZF axles with a hydraulic differential lock. This function is engaged via the operator pedal or in automatic mode, depending on the torque resistance in 1st and 2nd gear. The advantage of the hydraulic lock system is that it has less rolling resistance compared to the limited slip system.