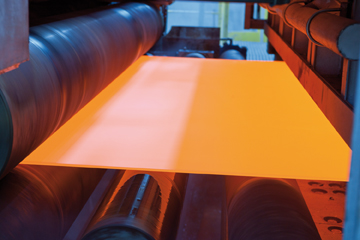 Quard® in Thin Gauges Allows Producers of Heavy Machinery to Reduce Their Environmental Impact
Today, manufacturers of heavy machinery face the challenge to produce more environmentally friendly equipment that is able to perform under severe wear conditions. The use of materials combining a reduction in energy consumption to a longer lifespan and a high hardness becomes a necessity. Therefore, the manufacturers favor the thin abrasion resistant steel (Quard®). In order to meet this demand, NLMK Clabecq broadens its range of "Quard®" to the very thin gauges. Available at Intermat from 4 mm, "Quard®" plates can improve productivity in the workshop thanks to a higher workability.
To reduce the impact on the environment, producers of construction machines and mining equipment seek to maximize the use of lightweight and recyclable materials which improve the overall performance. Thus carrying more reduces both the cost of use per ton and the ecological footprint. In addition, they are trying to increase the service life to reduce the impact of disposal at the end of the equipment's useful life. Given these conditions in which the machines operate, producers must use materials that can withstand extensive use in abrasive environments. From this perspective, ultra-thin abrasion steels offer the best solution.
From the first day of Intermat, NLMK Clabecq will propose Quard®, its abrasion resistant steel, in thicknesses ranging from 4 mm. Quard® plates are produced through a unique rolling process that combines a four-high rolling mill with a 4-stand finishing mill and subsequently a new 'quenching and tempering' unit, the plates are delivered on the market with mechanical properties and surface finish that improve workability. Tests conducted with a panel of selected clients have demonstrated homogeneity between plates as well as better processing capabilities, such as welding or bending. The results are improved productivity with lower costs of production in the workshop.
Using two separate levelers, NLMK Clabecq is able to produce steels with superior flatness to the highest standards (beyond the EN 10029 S-Class). Its plates are shipped with a surface finish comparable to that of unfolded coil sheets. Quard® is available in hardness's of 400 Hb and 450 Hb. Its development program foresees the commercialization of plates from 3 mm in the short term.
NLMK Clabecq is a world leader in hot rolled steel plates in a thickness range from 3 to 120 mm. It produces high added value steels, including steel for construction, shipbuilding, pressure vessels, plates for pipes and resistant to abrasion. Based in Ittre (Belgium), it employs over 500 people. It has an annual production capacity of 750,000 t. The company is part of the Business Unit "Plate" of NLMK Europe, the European branch of the Russian group NLMK.
Source: NLMK Clabecq