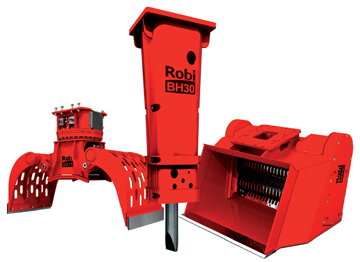 Ramtec, an Enlarged Product Range
Ramtec has recently enlarged its products range and will bring existing and new machines to Intermat 2012. The existing range of products includes crusher grapples, demolition grapples, screening buckets, multi-processors, pulverizers and cutter-crushers. To it, Ramtec is adding a complete hammer line consisting of three product ranges namely MH-, BH- and EH- series. These products are marketed under the Robi brand.
At Intermat, Ramtec plans to display the following machines and attachments: A CG20 crusher grapple; a BH30C hydraulic hammer; an MP19 multiprocessor; a DG15 demolition grapple; and an MM062 screening bucket. They all combine a number of key features: Suitability for various jobs; ease of use and service; and high-quality Finnish manufacturing skills.
Source: Ramtec Oy