Terex Takes Center Stage at Intermat 2012
Since Terex last exhibited at Intermat, the company has made major advances in product development and significantly improved sales and aftersales services, focusing on delivering outstanding customer responsiveness. As part of the company's new product development programme, Terex product managers and engineers have focused their efforts on delivering machines with higher performance than previous models combined with lowering operating cost and striving for industry-leading standards of efficiency.
On its 1,500 m² stand at Intermat, Terex will display more than 20 units ranging from aerial work platforms and cranes to construction and materials processing equipment – 14 of the exhibited machines will be new or improved models.
Major new innovations from the Terex Construction segment include the TC16 Twin Drive mini excavator which will debut in its production format. The TC16 Twin Drive has diesel power and an additional electric motor for emissions-free operation inside buildings or other confined spaces. Also making its debut at Intermat is the company's first entry in the micro excavator market, the 1 t operating weight TC10. Another product launch will be the TA300 Generation 9 Articulated Dump Truck, which is part of a comprehensive Stage IIIB compliant ADT range which spans 25 to 38 t payload. Complementing the TA300s improved performance is its independent front suspension which provides a smooth ride at fast travel speeds, resulting in greater operator comfort and productivity.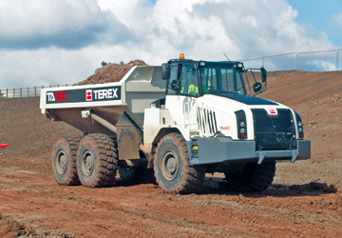 Terex will also show a new generation of Genie® rotating rough-terrain telehandlers featuring best-in-class capacity, intuitive controls and simplified operation and service to reduce maintenance time and keep you productive. Two electric Genie self-propelled aerial work platform models will also make their European debut; built for outstanding operational performance both inside and outside, these new introductions are energy efficient and eliminate onsite emissions. In addition, visitors to the stand will be able to see the recently introduced CE-compliant Genie GS™-4047 compact electric scissor lift which has a 14 m working height. This all-new design has a three person, 350 kg capacity basket on a narrow (1.19 m wide) base and can tackle up to 25% inclines.
As one of the world's leading crane manufacturers, the Terex Cranes segment will be showing examples of its tower, all-terrain and truck-mounted products. The company's focus of listening to its customers and providing innovative solutions has led to the introduction of the new Challenger 3160 all-terrain crane, which will be featured on the stand. The Challenger 3160 is the only fully equipped, 3-axle, 55 t capacity class machine designed for one-man operation.
Alongside will be the latest 100 t capacity class Roadmaster 5300 Truck Mounted Crane (which can also be used as one-man crane). The Roadmaster 5300's innovative superstructure and outrigger frame concept allows it to be mounted on a commercially-built, rather than a custom, 5-axle truck chassis. Not only does this lower the purchase cost, it also lowers operational costs due to lower tire wear, lower fuelconsumption and servicing availability. When carrying 8.15 t of counterweight he Roadmaster 5300 can be configured to be fully street legal. During the show, Terex Cranes will also unveil a new addition to its self-erecting tower crane range. Full details will be available on the stand.
From Terex Materials Processing comes the new Terex® Minerals Processing Systems (MPS) MC1000 cone crusher which represents a move away from traditional machinery production methods. Designed in response to demand from the materials processing market, it is the first of a new Modular Product Line. This consists of several pre-designed static and semi-static crushing and screening "plug and play" modules. The selected modules can be put together to create the plant required to suit any particular application across the aggregates and mining sector.
The Powerscreen® and Terex® Mobile Processing Equipment (MPE) product lines of Terex Material Processing will be working in conjunction with their respective French distributors in the Materials Processing / Mining & Quarrying area. Representing the Powerscreen brand will be the 500 t/h capacity XH500 horizontal shaft impact crusher and the giant Warrior 2400 screen which is capable of processing up to 800 t/h. From Terex MPE will be the latest Terex® Finlay 684 inclined screen, the 863 tracked heavy duty screen and the I-110RS, a tracked impact crusher with an easily detachable double deck screen.
Source: Terex Corporation