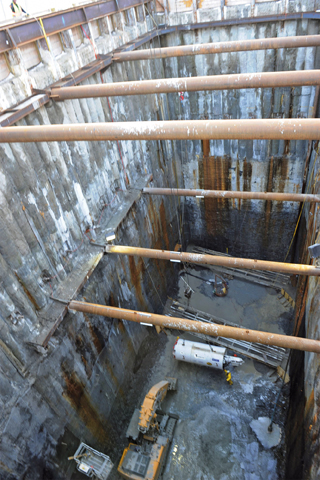 "Chip" Is Ready to Dig
"Chip", one of the two tunnel boring machines being used to construct the pedestrian walkway to Billy Bishop Toronto City Airport, inOntario, has been lowered into the tunnel shaft.
The Canadian-made tunnel boring machine joins its twin, "Dale", which is creating the first of seven drift tunnels that will form the walkway's crown.
"Chip" was lowered into the shaft on January 10 and has begun boring the second drift tunnel.
"This is an exciting project milestone," said Toronto Port Authority president and CEO Geoffrey Wilson. "The pedestrian walkway will be a first-class piece of infrastructure that will give passengers convenient, predictable and reliable access to Billy Bishop and we're well on course to completing it on time and on budget."
The Toronto Port Authority is building a pedestrian walkway across the Western Gap to Billy Bishop Toronto City Airport (BBTCA) that will allow passengers and airport users an alternative, efficient access point. Billy Bishop will serve more than 2 million passengers in 2012. The airport, which was completed in 1939, provides connections to more than 18 cities in Canada and the U.S.
The new walkway will be completed in Spring 2014 and flanked by a new pavilion on the mainland and an addition to the airport terminal building on the island.
Source: Toronto Port Authority