The Messersi TCH-R16 FED Electric Self-Loading Dumper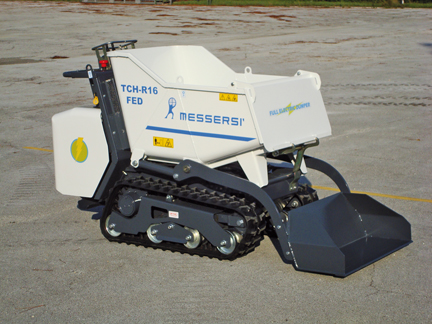 Eastern Farm Machinery would like to introduce the Messersi TCH-R16 FED electric self-loading dumper. This environmentally-friendly self loading dumper is ideal for limited access indoor or underground work requiring a zero emission environment.
Its class-leading 1000 kg payload capacity, rolling rocker patented track design, fast recharge LiFePO4 (lithium-iron-phosphate) batteries, 81 mm width and 65 l loading shovel make it ideal for limited access interior demolition work.
Zero emission electric drive allows for use in confined spaces and is environmentally-friendly compared to gas/diesel engines. LiFePO4 batteries have a faster recharge time and are less toxic than the more common LiCoO2 (lithium-ion) batteries. LiFePO4 also offers a longer cycle life and higher current or peak-power ratings than other lithium-ion approaches. The use of phosphates avoids cobalt's cost and environmental concerns, particularly about cobalt entering the environment through improper disposal.
The Messersi TCH-R16 FED is the only self-loading electric tracked dumper with a 1000 kg payload capacity available on the market. The undercarriage features rollers in the central area of the track and the patented layout of the tracks ensure a wide footprint, high stability and excellent driving comfort in all conditions.
Source: Eastern Farm Machinery