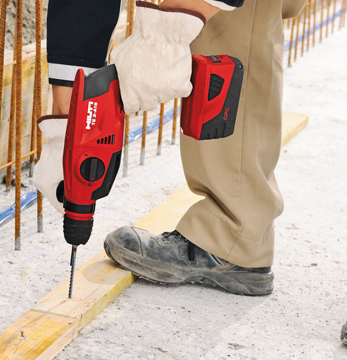 Hilti TE 2-A18 Compact
and TE 2-A18 Rotary Hammer Drills
Contractors have tried cordless tools for drilling in concrete and rejected them because they do not perform like corded tools. Hilti cordless tools are designed to perform at or above that of a corded tool. The TE 2-A18 compact rotary tool is the first compact SDS plus tool on the market that drills like a corded tool.
Both models have high efficiency motors that deliver more work per charge and are lightweight and comparable to the weight of the corded Hilti TE 2 Rotary Hammer Drill. And, include a LED light so you can drill right where you need to.
These tools are ideal tool for drilling anchor holes or through holes in concrete, brick and block with an optimum drilling diameter range of 5 mm to 9.5 mm (3/16" to 3/8").
The unparalleled Hilti CPC battery technology protects the battery, switch and motor for increased durability and longer battery life. These new cordless rotary hammers come standard with a high-efficiency motor for longer tool life and productivity, as well as a drop-resistant ultramide housing to achieve maximum protection of the tool's vital components.
With the purchase of a TE 2-A18 Compact or TE 2-A18 Rotary Hammer Drill, Hilti provides professionals unlimited battery replacements for two years under Hilti's Lifetime Service, a unique service agreement that includes two years of no-cost coverage (Some limitations apply).
See the video:
Source: Hilti, Inc.