Stertil-Koni Delivers Industry First Hydraulic
Self-regenerating Lifts to New GO Transit Facility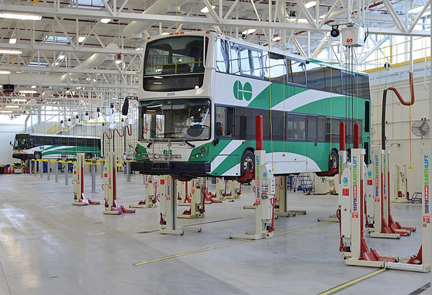 Stertil-Koni, the leader in heavy duty vehicle lifts, recently announced that it has delivered cutting edge mobile column lifts and in-ground vehicle service lifts to the new GO Transit East Regional Bus Maintenance and Storage Facility in Oshawa, a city of approximately 150,000 people located 60 km east of Toronto, Ontario.
In fulfilling the contract, Stertil-Koni 's distributor serving the eastern region of Canada, Novaquip, delivered 7 sets of the Stertil-Koni EARHTLIFT (consisting of 6 mobile columns per set) and 9 in-ground piston lifts. To help fulfill stated requirements by GO Transit to "have minimal impacts on the natural environment," the highly regarded EARHLIFT was selected.
"EARTHLIFT is the first hydraulic green mobile column lift in the industry. Its columns are made with components that are 98% recyclable and the Active Energy Retrieval System (AERS) allows operators to achieve 35% more lifting cycles at maximum lifting load," noted Dr. Jean DellAmore, president of Stertil-Koni. "In addition, the on-screen display highlights the AERS system, enabling the operator to see savings in real-time. EARTHLIFT also uses a closed hydraulic system that contains bio-degradable oil and the batteries are 100% recyclable. A set of 4 EARTHLIFT mobile columns has a lifting capacity of 49,000 kg. and for added safety the equipment is third-party tested and validated by ALI/ETL-Intertek.
The new GO Transit class "A" facility is designed to achieve a Silver Certification from LEED (Leadership in Energy and Environmental Design) and will provide a broad range of bus maintenance operations including a repair shop, storage, a bus wash, indoor fueling and a body shop.
GO transit, a division of Metrolinx, is the regional public transit service for the Greater Toronto and Hamilton areas. GO Transit carries 62 million passengers a year and is dedicated to providing its passengers with safe, fast, reliable and comfortable service to downtown Toronto and other urban centers.
Source: Stertil-Koni USA, Inc.