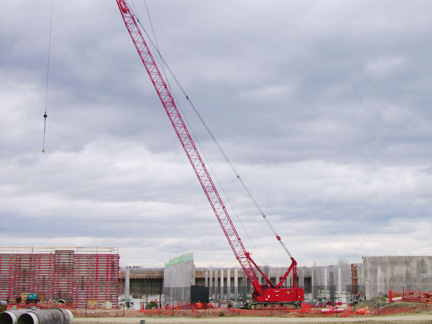 Manitowoc and National Crane
Help Harness Aquatic Power
MJR Contractors purchased a Manitowoc 12000-1 crawler crane to join other Manitowoc and National Crane machines working at Tullamore Pumping Station and Reservoir in Caledon, Ontario.
Romeo Duarte, vice president of MJR, said the Toronto-based company chose the Manitowoc 12000-1 for its proven reliability, great lifting capacity and extra-long reach.
"The job at Tullamore is fairly large and we needed a crane that could crawl between the pumping station and reservoir to make big lifts," he said. "We are already using a Manitowoc 8500 crawler and are very happy with its performance, so we were confident in the choice to buy another Manitowoc."
MJR bought the Manitowoc 12000-1 to complement the work being performed at the Tullamore jobsite by the Manitowoc 8500. There, the cranes are setting forms and pouring concrete, placing large pipes in the ground and assembling concrete forms, among other duties. MJR also plans to rent the cranes to a structural steel contractor that will be working at the reservoir and pumping station.
The 110 t capacity Manitowoc 12000-1 is suitable for a variety of work sites. It features heavy-lifting power, but in a smaller, easier to set up configuration. The crane can be rigged with up to 70.1 m of main boom, while its jib extension can be rigged up to 82.2 m. At the Tullamore jobsite, the crane is configured with 48.8 m of main boom and 18.3 m of jib.
Both Manitowoc crawlers were sold to MJR by Strongco, an Ontario-based seller and renter of industrial equipment for industries including construction, road building, mining and forestry. Strongco is one of Canada's largest construction equipment distributors with an extensive network of branches across the country and in the northeastern U.S.
Chris Gray, territory manager at Strongco, said MJR came to Manitowoc with a list of needs, all of which are fulfilled by the Manitowoc 12000-1.
"MJR Contractors decision process was made easy due to Manitowoc cranes' proven lifting strength and reliability," he said. "The speedy erection time and ease of transport of the crane were also determining factors in the purchase, as well as Strongco's extensive product knowledge and Manitowoc Crane Care service."
On site to assist with erecting the new Manitowoc 12000-1 is a National Crane NBT55 boom truck. The NBT55, which will also help load and unload trucks at the jobsite, was provided by Ontario, Canada-based Ward Crane Rental.
The NBT55 is ideal for jobsites where maneuverability is a priority. It is the largest National Crane boom truck, available in 49.9 t and 45.4 t capacities, and comes with either a 31.1 m or 39.0 m four-section, full-power boom. It boasts fully-integrated machine controls and a LMI, a first for the boom truck market.
The $42.63 million Tullamore Pumping Station and Reservoir project began in the fall of 2011 and was expected to finish December 2012.
Source: The Manitowoc Company, Inc.