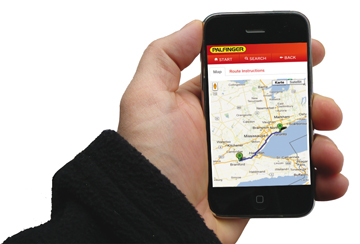 PALFINGER Launches Mobile App
After relaunching its web pages, PALFINGER has launched its first mobile application. The dealer and service partner search, which is already available online, is now accessible via mobile phone.
From now on, customers can search for PALFINGER dealers and service partners in their areas. The app automatically detects the user's location and shows the distances to the individual sales and service support points. There is also the option to display a map view via Google Maps. The search results not only provide the user with all contact information for the dealer or service partner, but can also be saved directly to the smartphone.
In addition to the mobile dealer and service partner search, the app also offers an FAQ section for tail lifts. This provides answers to questions about ordering spare parts, the online shop and warranty.
The app can be downloaded free of charge from the Apple App Store for iPhones and from the Google Play Store for Androids.
Source: PALFINGER AG