New Electronic Controls For Parker's P1/PD Series Piston Pumps
Parker Hannifin Corporation announces the introduction of a complete new line of electronic controls that enable users to optimize hydraulic performance and efficiency in a wide range of mobile and industrial open circuit applications. P1/PD series pumps with these Parker-developed electronic controls are available with or without a programmed electronic unit (ECU). Basic functions include fan control, proportional displacement and pressure controls, and overcenter capability for energy recovery applications.
Designs without the ECU are available with either displacement default position and with (or without) displacement sensor or hydro-mechanical pressure limiter. All include a directional proportional valve. Control logic is customer-programmed and can be integrated using the machine's existing ECU.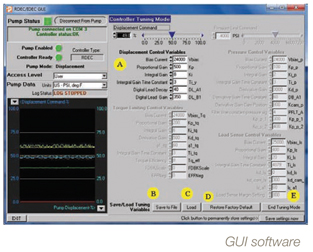 Designs with the programmed ECU feature graphical user interface (GUI) software, allowing the user to easily set up pump-specific parameters; adjust parameters for machine behavior if needed; set up data log, monitor pump, wiring and system status; and calibrate system sensor. The ECU is J1939 CANBUS compatible (pump command can be analog or CANBUS). With these controls the pump includes the displacement sensor and electronic valves as well as pressure sensor if pressure control is selected.
Equipped with electronic controls, which are fully compatible with IQAN ECU, Parker P1/PD series pumps become intelligent hydraulic components. Parker's IQAN software and MDL display modules make it possible for system designers to integrate all control systems into one including pump, sensors, throttle and engine. They allow OEMs to improve machine operation by optimizing the hydraulic performance as well as reduce fuel consumption and emissions by ensuring that the exact amount of hydraulic power is supplied when needed.
P1/PD series pumps are used worldwide in a broad range of applications including: concrete pumpers, oilfield power units, mining haul trucks, horizontal drillers, construction and forestry equipment, military transport vehicles, water jet cutters, plastic extrusion machines, head presses and injection molders, among many others.
Source: Parker Hannifin Corporation