Rotary Lift Spotline™ Laser Spotting Guide
Now Available for All Vehicle Lifts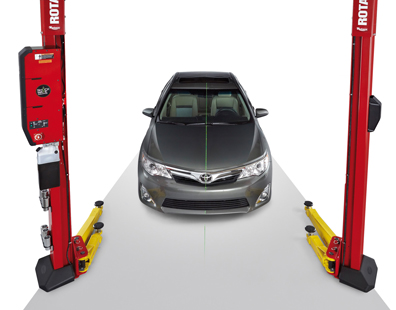 Rotary Lift's Spotline™ laser vehicle spotting guide is immensely popular with technicians who use the company's new Shockwave-equipped lifts. It enables them to quickly and efficiently move vehicles in and out of the bay, saving time on each job and increasing overall productivity.
Now, owners of any brand of vehicle lift can add the benefits of Spotline to the bay, thanks to a new retrofit kit that makes the laser spotting guide compatible with most inground and surface lifts.
"Everyone who has a Shockwave-equipped lift knows how much time the laser saves," says Ron Lainhart, Rotary Lift parts and service manager, "But there are a lot of people who aren't necessarily ready to purchase a new lift who could benefit from being able to spot vehicles more quickly and accurately. The new Spotline retrofit kit lets customers increase the efficiency of virtually any lift out there."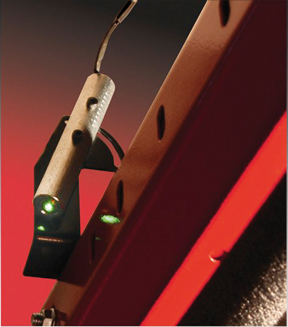 The Spotline laser is installed on the top of the lift or elsewhere above the work area. It projects a green laser line directly in the center of the bay. The technician simply centers the line on the vehicle hood and dash while pulling in for perfect positioning every time. With Spotline, the driver does not have to lean out a window or a door to properly stage the vehicle.
Rotary Lift invented the Spotline motion-activated laser spotting guide and introduced it as part of its Shockwave system in November 2011. Until now, it was only available on Shockwave-equipped two-post and SmartLift® inground lifts. Spotline uses a Class IIIa laser similar to those in laser pointers.
The Spotline retrofit kit works with two-post and four-post surface lifts, light-duty inground lifts, and heavy-duty parallelogram and scissor lift models. The kit comes complete with a Spotline laser assembly, motion sensor kit, mounting bracket and hardware adaptable to a ceiling, wall or top of a two-post lift. A Rotary Authorized Installer (RAI) can install the kit, or the customer can install it by following the simple instructions provided.
Source: Rotary Lift