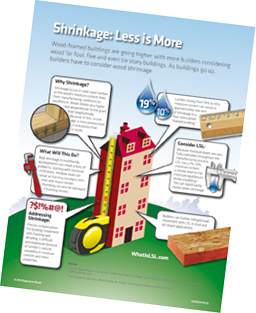 Plate Shrinkage in Tall Wood Buildings
As wood-framed buildings are going higher, with more builders considering wood in 4, 5 and even 6 story buildings, builders have to consider the effect of moisture changes on wood.
Laminated Strand Lumber (LSL) can significantly reduce plate shrinkage in taller buildings. LP Building Products has released an infographic detailing the effects of shrinkage and the benefits of using LSL to help mitigate wall movement.
Source: Louisiana-Pacific Corporation