First QSK95-Powered Locomotive to Operate with 4200 hp Output
Cummins Inc. announced at the Railway Interchange Show, held from September 20 to October 2, 2013, in Indianapolis, Indiana, that the first QSK95-powered locomotive will begin commercial service operation with the Indiana Rail Road Company (INRD) by mid-2014.
The 4200-hp freight locomotive is expected to take to the track as the first heavy-hauler with a repower installation ready to meet U.S. Environmental Protection Agency (EPA) Tier 4 ultra-low emissions regulations.
The 95 l, 16-cylinder prime mover is one of the most powerful high-speed diesels to be installed in a locomotive. A Cummins Selective Catalytic Reduction (SCR) aftertreatment system provides a simpler and easier route to meet the stringent Tier 4 emissions levels.
The EMD SD90 base locomotive currently undergoing refurbishment will be redesignated as CECX 1919, and will remain under Cummins ownership while operating with the INRD roster. The repowered locomotive will haul coal or mixed freight across the INRD network.
Taking routes from the west and south of Indiana to downtown Indianapolis, the CECX 1919 will typically haul 100 cars with a total weight of around 12,700 t, working as the lead locomotive in a multiple set. This demanding operation will demonstrate how the Cummins QSK95 prime mover will play a lead role in moving the rail industry in North America forward to meet Tier 4 ultra-low emissions regulations taking effect January 1, 2015.
"I am delighted that the CECX 1919 locomotive will be operating in our home state with the Indiana Rail Road Company, which is widely recognized as one of the most progressive regional railroad companies in North America, and is eager to become one of the first operators to run an ultra-low-emissions locomotive in commercial service," said Ed Pence, vice president and general manager - Cummins High-Horsepower Engine Business. "Together with INRD, we are committed to demonstrating the latest locomotive technology using the QSK95 high-speed engine, manufactured in Indiana at Cummins Seymour facility.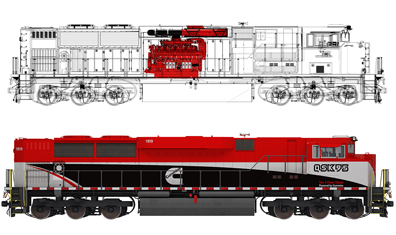 "We believe that our high-speed QSK95 will not just bring cleaner operation, but will achieve higher performance and lower operating costs than INRD has seen before with its traditional medium-speed powered locomotives," added Mr. Pence.
Equipped with GPS location and advanced telemetry, the CECX 1919 heavy-hauler will be remotely monitored by a Cummins field test team taking a continuous stream of locomotive and engine data capture. Based on duty-cycle operational analysis, the field test engineers can then remotely fine-tune the QSK95 engine to achieve very precise improvements to fuel efficiency or power delivery.
Drop-In Power Module
The QSK95 engine is installed in the refurbished locomotive as part of a self-contained drop-in power module, purpose-designed by Sygnet Rail Technologies, LLC, to replace the complete diesel-electric system and carbody. Supplied as a fully enclosed unit, the power module integrates the QSK95 prime mover, SCR exhaust aftertreatment, alternator, cooling system and dynamic braking as a single package.
This innovative approach for repowering existing locomotives to meet Tier 4 emissions regulations provides for a simpler and faster installation. The QSK95 Power Module is tested before installation in the carbody, reducing the time taken to commission the locomotive ready for service. Features such as advanced controls for wheel slip, idle limiting and telematics reporting are integral to the power module.
"The repowered locomotive will demonstrate how well the clean combustion of the QSK95 engine and Cummins SCR exhaust aftertreatment work together as an integrated system to achieve the ultra-low Tier 4 emissions levels, easily accommodating the space claim of the larger medium-speed engine they replace, and requiring no additional cooling capacity," said Randy Nelson, marketing director - Cummins Rail Business.
The SCR exhaust aftertreatment removes oxides of nitrogen (NOx) emissions, leaving the engine combustion to remove Particulate Matter (PM). This approach avoids the need for added complexity on the engine, and enables the combustion formula to be fully optimized for fuel efficiency.
The SCR aftertreatment system used with the QSK95 engine has been specifically designed for locomotive repowers by Cummins Emission Solutions to occupy a space claim very similar to that of the exhaust silencers. SCR is a well-proven technology, with over 600,000 systems utilized by Cummins engines since introduced in 2005.
Source: Cummins Inc.