Newco Metal Finds Success in the Recycling Business
Inga Rundquist, MindFire Communications
Special Collaboration
---
"Newco is the largest and oldest metal-recycling company in Newfoundland," says Robert Anstey, owner. "In fact, there's no metal project we won't tackle. Right now, with our fleet of Hitachi excavators and our crew, we're working in six different towns throughout the province. And that's a normal day for us."
Newco Metal & Auto Recycling Ltd. bids the demolition of steel structures from industrial sites, government bridges, and mines. They primarily use their Hitachi ZX200 and ZX350 excavators with thumbs and shears to tear down the structures, and their fleet of semi-truck/trailers to bring the metal to their yard in St. John's for sorting and final cutting to the specifications of their buyers.
"We started in the construction business," notes Mr. Anstey. "And I think that background has given us a step up on figuring out how to bid on and then tear down existing buildings, especially for the scrap. Going after our own steel instead of simply operating a yard has worked well for us. We have plenty of competition from people who like to do the normal stuff, so we've worked hard to be good at doing the abnormal stuff – work that other people either didn't know how to do or didn't want to do. Demolition or taking things apart is difficult, and it takes a bit of engineering to get it apart safely and economically."
The company also has crews that go to other demolition and recycling contractors or steel manufacturers. There Newco picks up and crushes their steel on-site, and then brings the resulting material to their St. John's yard for final sorting and loading into trucks or containers for sale to buyers. "We've gone out of our way to help smaller recycling companies in the province become more successful."
In addition, Newco buys cars for parts and crushes them. They also buy aluminum, copper, plastic, and paper. Then, they sort, crush, and bale the material for resale.
All of the recycled metal is processed in compliance with the strictest environmental guidelines equal to or even exceeding governmental regulations. Additionally, some of the steel never leaves the province, going to local foundries. The rest is typically shipped in containers and trailers on a back-haul basis to buyers in Eastern Canada.
Standard on Hitachi
"We really have two fleets," notes Robert Anstey. "A fleet that travels, and then our yard fleet for Newco. Again, the traveling fleet supports our demolition bids. We came to Hitachi slowly, with Wajax Equipment selling us just one. But the operators really liked it. They said there was no comparison in the way the Hitachi handled. The controls, they said, are the smoothest on the market, which means we can simply do a better job of finessing the steel apart in our demolition work and in sorting and loading. And, the fuel economy is for real! So now, we're standard on Hitachi."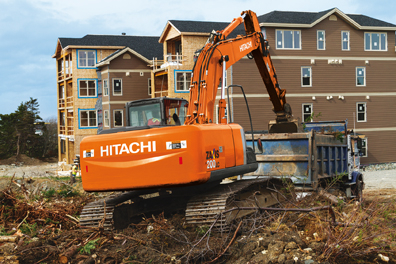 "Wajax service has really helped us out, too. More than once we've damaged something in our demolition work, and they've come up with the parts and technicians to get us going again after hours or even on holidays."
triple a excavating, a SiSter company
"We started Triple A Excavating as a jointly owned operation between Robert and myself," says Steve Anstey, Robert's brother. "We provide a wide assortment of services for various civil projects."
"The Hitachi excavators work just as well for dirt work as they do for demolition. Smooth controls and great weight distribution make the job go faster, no matter what you're doing."
Newco Metal & Auto Recycling and Triple A Excavating are serviced by Wajax Equipment, St. John's, Newfoundland and Labrador.