Hyundai Launches New Electric Forklifts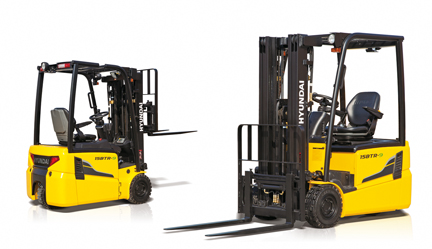 Hyundai Forklift announces the addition of their 10/13/15BTR-9 Series 24 V electric counterbalance forklifts. This newly designed model is the first of Hyundai's 9 Series forklifts to be launched in the North American market, with the remainder of the product line following close behind. Operators can look forward to outstanding productivity, maneuverability, easy maintenance and comfort with these forklifts, which are ideal for applications requiring a tight turning radius such as distribution centers, loading docks and cold storage.
Hyundai's 10/13/15BTR-9 Series forklifts were engineered for high efficiency and optimal performance.
All three models are designed for ideal drive and lift performance. Utilizing enclosed, low maintenance AC technology, drive and pump motors ensure greater acceleration, gradeability, faster travel and lift speeds and excellent durability. The Zapi controller provides smooth operation and protection for high and low voltage, overheating and fault recording. All three units offer 2 and 3-stage masts to 6 m lift and load capacities of 1,000 kg, 1,250 kg, 1,500 kg, respectively, making handling and lifting large loads a breeze.
In addition to power, the 10/13/15BTR-9 forklifts offer an efficient, smooth running and compact design to provide operators with enhanced performance and improved productivity. The combination of a 3-wheel design and rear wheel drive offers central pivot turning, which allows the driver to work in confined spaces such as the narrow aisles of a warehouse. This series also has a unique curve control feature, which limits travel speed based on the turning radius, leading to a smooth, precise turning operation for the driver. An anti-roll back system offers protection against machine roll backs on an incline as well as exceptional ramp start-up capabilities.
Despite their compact design, these models have ample room for operators. A low entrance height makes entering and exiting the machine safe and easy. An adjustable steering wheel enables operators to achieve their most comfortable driving position, necessary for long day's work. The angle of the steering column can easily also be adjusted through a lever on the right-hand side of the steering column for added comfort.
Hyundai's 10/13/15BTR-9 series forklifts can easily accommodate various attachments to meet any application need.
Source: Hyundai Forklift