All-new 2015 Yukon and Sierra HD Make Canadian debuts
at the 2014 Montreal International Auto Show
The all-new 2015 Yukon full-size utility and Sierra HD made their Canadian debuts at the 2014 Montreal International Auto Show.
The all-new Yukon delivers greater capability and refinement, with more power, new fold-flat rear seats and a quieter interior. And thanks to a new family of advanced EcoTec3 engines, the lineup is expected to deliver the segment's best V-8 fuel economy.
The new Yukon is more powerful and efficient than before, thanks to the new EcoTec3 engine. A 5.3 l V-8 is standard in Yukon and Yukon XL models and an exclusive 6.2 l engine is standard in Denali models, which is expected to deliver the segment's best horsepower and torque.
The EcoTec3 engines feature state-of-the-art technologies, including direct injection, cylinder deactivation, continuously variable valve timing and an advanced combustion system, designed to make the most of power, torque and efficiency across a broad range of operating conditions. More precisely controlled combustion enables the new engines to run with a higher compression ratio, which delivers greater power and efficiency. Both engines are matched with the Hydra-Matic 6L80 six-speed automatic transmission.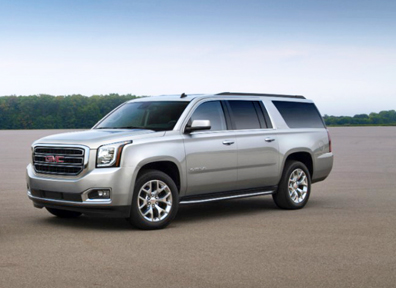 Designed to deliver class-leading capability with enhanced comfort and smarter technologies, the new 2015 GMC Sierra HD lineup advances a 111-year legacy of professional heavy-duty trucks.
The new Sierra HDs arrive in the first quarter of 2014, including 2500HD and 3500HD models, and the Sierra Denali HD, which matches do-it-all capability with an exclusive package of design and upscale interior amenities.
Segment-leading capabilities across the range include the highest payload – 3,508 kg – and the highest conventional trailering rating – 8,890 kg. The maximum fifth-wheel trailering rating is 10,523 kg.
A Vortec 6.0 l gas V-8 with variable valve timing is matched with the Hydra-Matic 6L90 6-speed automatic transmission as the standard powertrain across the Sierra HD model range. This combination is engineered to deliver excellent performance and efficiency, especially at low-rpms. It is rated at 360 hp and 380 lb-ft of torque in 2500HD models and 322 hp and 380 lb-ft in 3500HD. The 6.0 l engine is also available in a bi-fuel model that features special hardened valves and valve seats that enables it to run on compressed natural gas (CNG) or gasoline. The CNG fuel system is installed by a GM supplier and completed vehicles are delivered directly to the customer, making the purchase process as seamless as ordering any other option.
The Duramax 6.6 l diesel and Allison 1000 6-speed automatic transmission powertrain combination is available on all 2500HD and 3500HD models, with 397 hp and 765 lb-ft of torque. It can run on B20 biodiesel capability for an alternative fueling option.
Source: GMC Canada