Sandvik Construction at CONEXPO-CON/AGG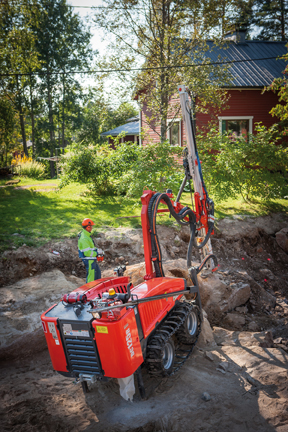 CONEXPO-CON/AGG 2014 is such an important exhibition, both for the global construction industry, and for Sandvik Construction specifically, that the very theme of the show encapsulates exactly what Sandvik Construction is about.
Thus the exhibition will allow Sandvik to affirm its customer orientation, and at the same time bringing into mind such core Sandvik Construction areas of expertise as aftermarket care, construction excellence and global coverage.
Although Sandvik will be aiming to use the opportunity presented by an exhibition of such importance to the global construction industry to emphasize areas of expertise and service that transcend the traditional supplier-customer dynamic, CONEXPO-CON/AGG is also quite rightly seen as the perfect place to introduce new solutions based equipment. Hence Sandvik Construction will also introduce the very latest developments from the world leading product ranges.
"The Sandvik Construction range of equipment enables our customers to process materials from virgin rock right through to demolition materials; these can then be recycled for continued use. This customer-focused approach will see us (Sandvik Construction) unveil some new, and exciting, products and services aimed at enabling customers to enhance their profitability, improve efficiency, and minimize environmental damage," said Jeff Heinemann, vice president, Sandvik Construction USA.
New and innovative equipment that will be shown includes:
Stationary crushing equipment – The new generation of compact cone crusher from Sandvik provides customers with optimum performance and good cubical shape, and at the same time ensuring the lowest operating cost per ton for a wide range of materials and applications. The all new patented Sandvik CH550 is based on the proven HYDROCONE™ design, with the CH550 combining the ability to produce excellent shaped products, in fewer crushing stages, thereby making it adaptable to ever-changing customer requirements.
Drill rigs – The new DC125R is a hydraulic, self-propelled drilling machine on a 4-wheel drive carrier. The rig is perfect for maneuvering in tight places and tough conditions, as well as being suited for foundation drilling, road cutting, trenching, demolition work and dimensional stone quarries. With its excellent mobility, compact size – make it easy to transport, low noise and dust – making it perfect for urban areas, and practical component layout - easy to service, the DC125R offers new levels of customer focused drill rig design.
Tools & Consumables – Sandvik Construction's extensive range of rock tools are world renowned for combining advanced materials technology, with skillful design focusing on performance, simplicity and endurance. The latest range is the RH series of down-the-hole hammers which have been developed to give customers even higher levels of productivity and reliability, as well as simultaneously delivering lower operating costs. The range has been developed in order to provide drilling customers with the enhanced levels of penetration rates, longer service life and lower operating costs that they now demand. Possessing key features that optimize the impact-energy transmission into the rock, utilizing very few parts, they are designed to be reliable, easy to service, and fast.
Mobile Crushers and Screens – The larger of the two new "S" type gyratory cone crushers; able to accept larger feed sizes and achieving high production capacities, the new model is fitted with the reliable Sandvik CS440 cone crusher, which has proven itself in stationary applications for over 30 years. With a choice of three concaves, and four bush settings to control the closed side settings and material gradation, the QS441 offers ultimate flexibility. Capable of producing large reduction ratios with minimal fines production, it is ideally suited for crusher run, ballast / drainage stone or material for a tertiary crushing plant.
Source: Sandvik Construction