Talbert's Telescopic 55-Ton HRG Offers Multiple Configurations
For Versatility and Load Variance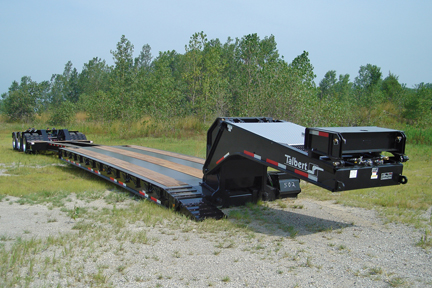 The telescopic 50 t (55-ton) hydraulic removable gooseneck (HRG) trailer from Talbert Manufacturing offers a 51 cm deck height, the versatility to extend deck length and the flexibility to operate with multiple rear axle configurations.
Talbert, a leader in the specialty-built trailer and transport system industry, designed the 50 t HRG with a telescopic deck capable of extending from 9.1 m to 15.2 m long. Extended, the unit has a 8.2 m wood deck in the front and a 0.9 m wood platform in the rear with beams stretching between. The trailer expands and locks in 122 cm increments. When lengthened, the telescopic trailer is ideal for hauling any equipment that requires a long deck, such as tanks, bridge beams or bulky equipment. When compressed, the trailer can be used as a standard deck trailer.
The unit can be set up as a 4 axles close couple or in a 2 + 2 or 3 + 1 spread axle configuration. Due to permitting requirements, getting a trailer to an overall length of less than 16.1 m (53') can be important. The Talbert 50 t telescopic trailer features 3rd and 4th axles that can be flipped or removed, plus a pinned and hinged gooseneck extension that also can be flipped. With these two key features, the trailer can be shortened to less than 16.1 m so there is no need to obtain an over-length permit when the trailer is running empty.
This trailer delivers greater lifting capacity over comparable models due to the gooseneck design. While most conventional trailers feature only two or three cylinders that run perpendicular to the deck, Talbert engineers its trailers with four that run parallel. This means Talbert trailers offer a stronger lifting capacity and minimizes or eliminates the need for frequent load adjustments. In combination with its heavy-duty T-1, 100,000-PSI minimum yield steel construction, the trailer offers unmatched strength and reliability.
Source: Talbert Manufacturing