VIA Motors Announces Start of Production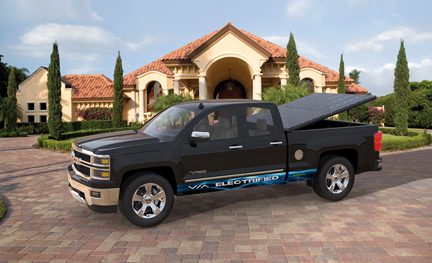 At the LA Auto Show, automotive legend Bob Lutz made history once again announcing the start of production of the world's first full size, four-wheel-drive, electric pick up trucks and vans by VIA Motors. Mr. Lutz, is well known for championing extended range electric technology while at General Motors, preferring it over hybrid or all-electric technology, particularly in full size vehicles, where fuel savings from electrification can quickly overcome the incremental cost.
"VIA's unique approach in working hand-in-hand with OEMs like General Motors to transform conventional full size vehicles into extended range electric vehicles, will make electric powertrain options more practical and available to a broader market," noted Bob Lutz. "Although packed with advanced technology, the fuel savings and other benefits of an electrified pick up or van, can actually make it less expensive to drive than a conventional truck over time."
VIA has been working with leading fleets to develop a clean, economical electrified truck & van, and has been very pleased with their performance in fleet applications. VIA will soon begin taking orders for consumer sales in 2014.
Source: VIA Motors