ReachMaster Is the New Dinolift Distributor for North America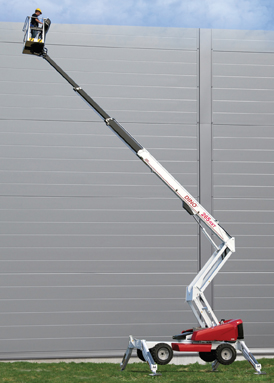 Effective January 1, 2015 Dinolift has appointed ReachMaster, Inc. as its new exclusive distributor in the U.S., Canada and Puerto Rico.
ReachMaster will be responsible for all DINO sales and after-sales support of the complete DINO range in the above mentioned markets. The appointment is a reflection of a strategy to expand the success of the DINOlift products in Europe into the North American markets, particularly for the extensive line of DINO trailer lifts as well as the self-propelled machines, mainly the RXT self-propelled articulated boom lift with outriggers.
"We are very happy to re-enter the North American market and in ReachMaster we have the right partner to be successful," says Karin Nars, director of sales and marketing from DINOlift. "We are looking forward to working together with Ebbe Christensen and his professional team."
ReachMaster, Inc. has for more than a decade successfully pioneered compact and specialty aerial lift equipment distribution in North America, including the Falcon, Denka, Bluelift and PB Lift brands. "We are very excited and proud to be given the opportunity to re-launch the DINOlift brand in North America," says Ebbe Christensen, president of ReachMaster. "It is a perfect fit and fills a gap in our portfolio making the ReachMaster range of high quality lifts unmatched by anyone in the industry today."
The increased focus on logistics and indirect operational costs in the U.S. rental market today represents new opportunities for the DINO trailer lifts. "Trailer lifts have long ago proved their status as the most cost efficient solution for safe access at height in Europe, where high fuel and labor cost combined with environmental impact have made trailer lifts one of the strongest ROI categories," says Ebbe Christensen, adding that the U.S. market is getting ripe for the very same reasons.
"We believe the DINOlift products have everything it takes to be successful in North America, not only the trailer lifts, but also the self-propelled RXT series with outriggers. With this new partnership we combine the market experience of ReachMaster with our 40 years of innovation and production," concludes Karin Nars.
The Finnish producer DINOlift celebrated its 40 year anniversary of DINO platforms last year. In addition to trailer-mounted aerial work platforms, the company also produces self-propelled booms and crawlers in its Loimaa-based factory.
Source: Dinolift Oy