New Features Increase FiberMax® Crane Mat Performance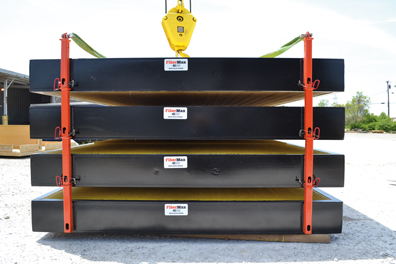 Since its introduction in early 2014, several new features have been developed for the FiberMax® crane mat product line, from DICA® Outrigger Pads. The new features include a static dissipation strip, corner cribbing, and additional rigging hardware options. Each upgrade is designed to improve safety, ease of use, and productivity.
FiberMax® crane mats provide outstanding stability for both outrigger-enabled mobile cranes and crawler cranes in a wide variety of ground conditions.
Engineered for incredible strength and rigidity, but weighing less than half the weight of steel crane mats, FiberMax crane mats have the ability to significantly reduce transportation costs and provide exceptional long term ROI.
The Static Dissipation Strip provides a path for electric current, static or otherwise, to the ground. The crane mats themselves are non-conductive, providing an insulating barrier from the equipment to the ground. The new option allows for the transfer of electrical charges to be transmitted through the equipment float into the dissipation strip to the steel frame and ultimately to the ground (assuming the mat is placed on a conductive surface). FiberMax crane mats can be upgraded with the static dissipation strip for as little as $100 to $250 depending on mat size.
When stacking crane mats for storage, the new Corner Cribbing feature eliminates the need for operators to place temporary cribbing between each mat. This makes stacking the mats using a forklift more efficient and eliminates pinch hazards between stacked mats. The corner cribbing option is $100 per mat and is painted high visibility orange.
In addition to standard J-hooks, DICA now offers 3 new Rigging Hardware options including standard D-Rings, optional Crosby® Pivot Links, and a new Stack & Pin option. The Stack & Pin feature secures 4 mats together for lifting as a single unit. This feature simplifies load securement for transportation and storage purposes. Prices vary based on hardware and mat sizes.
Since debuting at ConExpo-Con/Agg 2014, FiberMax crane mats have been put to use with 100 t to 600 t capacity mobile cranes working in a variety of ground conditions with different soil bearing capacities.
Working in refineries in the Midwest, Chellino Crane, from Joliet, Illinois, says that FiberMax crane mats provide them with safe, efficient setup solutions.
"Chellino Crane uses FiberMax crane mats because they're so lightweight compared to steel, making them easy to transport and move around the jobsite. Our customers in refinery plants have even taken notice, especially, when we use the DICA ZeroLift Pad Rack on our RTs to carry the mats instead of using a forklift to position them. This is a huge cost savings for the customers," said Wesley Chellino, operations manager.
Other applications demonstrate the advanced load distribution capabilities of FiberMax crane mats. FiberMax crane mats utilize technology originally developed for vehicle and pedestrian bridge decking applications where safety and long term use are top concerns. This "directionally isotropic" design directs the load where it is engineered to go and maximizes the surface area of the mat.
In the Gulf Coast region where the soils can be very soft, typical allowable ground bearing capacity (AGBC) are between 70 kPa - 120 kPa. One DICA customer chose specially designed FiberMax crane mats to meet their requirements of reducing heavy loads to an AGBC of 48 kPa. In metro areas soft soils are not the challenge. Instead, the need is to reduce ground bearing pressures to avoid causing damage to underground utilities and streets. FiberMax crane mats have been selected for this application in Washington, D.C. to reduce the extreme ground bearing pressures from a 360 t crane to meet everyday lifting needs.
In a crawler crane application in Florida, the U.S. Navy is using custom-designed and constructed FiberMax crane mats where the supported load is as high as 348 800 kg and the allowable ground bearing pressure is just under 43 kPa.
"DICA FiberMax cranes mats are proving themselves to be a dependable lightweight solution that are able to meet some of the most demanding environments around the world," said Kris Koberg, CEO of DICA Outrigger Pads.
Source: DICA Outrigger Pads