The «Next Generation» from Gomaco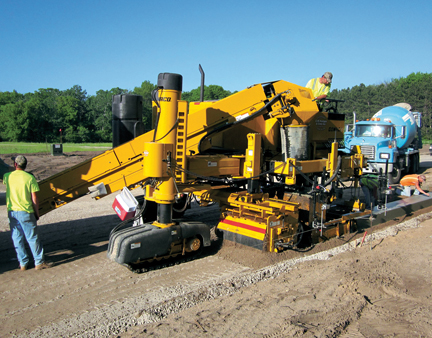 Gomaco's Next Generation… What does that mean to you? The 3rd generation of the Gomaco Commander III is all about vision, safety, performance, and operator comfort and convenience. The design is built around the new Tier IV engine and cooling package. It means excellent operator visibility, quiet operation and fuel efficiency.
It's a quieter operation and more fuel efficient because of the Gomaco G+® control system. G+ controls the hydraulic fan and adapts the cooling based on the job-site conditions. The power-optimized engine in the Commander III, combined with load-sensed hydraulic circuits, means improved fuel efficiency. Fuel capacity has been increased to 333 l and means an uninterrupted day of paving for you.
The Next Generation Commander III has the ultimate operator's platform. It features a new pivoting operator's console and can be positioned for the best visibility for travel direction during paving application, three-track or four-track operation. The control panel for the vibrator circuits has been relocated for easy reach. The isolated platform reduces vibration and increases operator comfort all day long.
The machine is also equipped with the G+ Connect™ for simple connections to #D guidance or Gomaco's complete library of sensors for steering and grade.
Telematics is now available on the Next Generation with G+ and means remote engine and machine monitoring. An on-board camera is also a new feature. The camera feeds full color video to the G+ control screen allowing the operator to survey designated areas during slipforming.
The next Generation still has all of your favorite features, including easy push-button steering set up with "smart" cylinders, All-Track Steering, All-Track Positioning, and more. It means it's your number one choice for a variety of slipforming applications including monolithic sidewalk, curb and gutter, barrier, slotted drain, roll-over curb, parapet and width up to 6.1m (20 ft) wide.
Source: Montreal Tracteur inc.