New IMT 32 tm Articulating Crane Offers More Productivity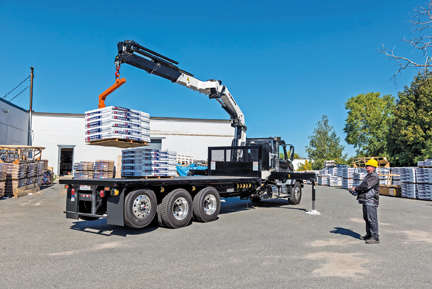 Iowa Mold Tooling Co. Inc. (IMT), an Oshkosh Corporation company, has introduced the 32 tm crane to its lineup of articulating cranes ranging from 2.5 to 80 tm. The 32/222 crane is designed for superior operator productivity with unique lift and reach capabilities requested by customers.
The excellent strength and reach of the IMT 32 tm crane, along with high working speed and precision control, maximize operator efficiency. The crane features a maximum lifting capacity of 6,830 kg at a radius of 4.5 m. The crane offers one of the industry's longest horizontal reaches in the 30 tm range: 21.2 m with 8 hydraulic extensions.
Productivity-enhancing features of the 32 tm articulating crane include the dual-power plus link-arm system, 15° overbending, continuous rotation and a standard radio remote control. The crane comes standard with the RCL (rated capacity limiter) 5300 system to monitor load moment, operation and function.
"At IMT, we're committed to helping our customers become more productive and, as a result, more profitable," said John Field, IMT product manager of material handling. "The 32 tm crane offers the performance to make loading and unloading materials more efficient. Operators can move and haul more materials with this crane, which has a positive impact on the bottom line."
Ultra-high tensile steel construction of the hexagonal boom provides a superior lift-to-weight ratio, high lifting capacity at long reaches and increased payload capabilities. Required mounting space has been minimized, providing more space on the truck body and additional truck configuration possibilities.
The 32 tm crane joins the complete lineup of IMT articulating cranes ranging from the 2.5 tm model to the 80 tm model.
Source: Iowa Mold Tooling Co., Inc.