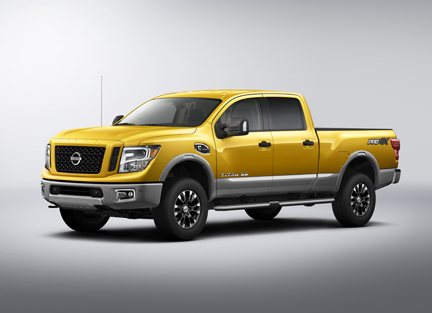 New 2016 Nissan TITAN XD
The 2016 Nissan TITAN XD, which made its world debut at the 2015 North American International Auto Show in Detroit, is set to shake up the highly competitive full-size pickup segment when it goes on sale in the U.S. and Canada beginning in late 2015 – with a bold all-new design that stakes out a unique position in the segment between traditional heavy-duty and light-duty entries.
Called the "XD", it offers the effortless towing and hauling of the larger, more expensive heavy-duty trucks yet has the fuel-efficiency and affordability of a half-ton pickup.
The new TITAN XD Crew Cab, which was shown in Detroit with its powerful Cummins® 5.0L V8 Turbo Diesel, is the first of 3 cab configurations, 2 frame sizes, 3 powertrain offerings and 5 grade levels to be available in the full TITAN lineup.
Starting with a durable, proven chassis design from Nissan Commercial Vehicles, the new fully boxed, full-length ladder frame is extensively reinforced and strengthened for use with the TITAN XD with added stiffness, vertical and lateral bending, and torsional rigidity. It also features an extended 385 cm wheelbase – about 51 cm longer than non-XD TITAN models.
Hydraulic cab-mounts help isolate the occupants from the advanced TITAN XD chassis. The new TITAN XD rides on 17'', 18'' or 20'' aluminum-alloy wheels with LT245/75R17, LT275/65R18 or LT265/60R20 tires for strong all-weather/all surface traction.
Braking is provided by a 4-wheel disc system with 360 mm / 366 mm ventilated discs front and rear with hydraulic power assist. The high brake fluid pressure generated by an electric pump assists brake pedal force for a confident feel. The system is designed to provide improved noise and judder control (versus the previous generation TITAN).
Responsive steering is provided by a recirculating ball-type high-capacity steering system with parallel rod steering linkage to optimize steering effort characteristics, even under heavy axle weight and towing conditions.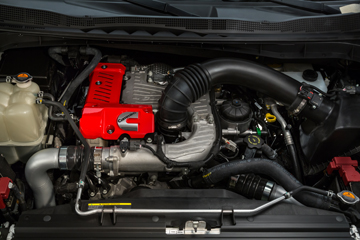 The TITAN XD Cummins diesel is the first commercial application of the new Cummins M2 2-stage turbo system, which helps reduce traditional turbo-lag through precision balancing between high-pressure and low-pressure turbos. The patented Rotary Turbine Control provides solid performance across the powerband and manages exhaust gas temperatures.
Helping handle the power and torque of the engine is a heavy-duty 6-speed Aisin automatic transmission developed and tuned exclusively for the TITAN XD.
TITAN will also be offered with V8 and V6 gasoline engines. Details on those engines will be announced at a later date.
Source: Nissan