Atlas Copco Previewed New Tier 4 Final Generator
at POWER-GEN® International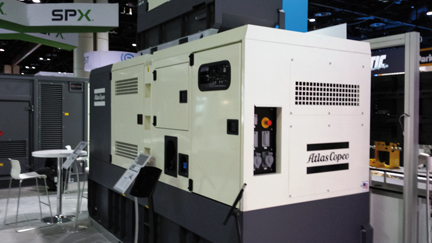 Atlas Copco Portable Energy gave tradeshow attendees an exclusive preview of its Tier 4 final (T4f) QAS 275 generator before it hits the market in the second quarter of 2015. The new generator meets new emission standards and features the latest technology that simplifies maintenance. The new generator was on display December 8-11 during the 2014 POWER-GEN® International tradeshow in Orlando, Florida.
The new QAS 275 generator incorporates an MTU engine and after-treatment system that meets Tier 4 final (T4f) emission standards without a diesel particulate filter (DPF). MTU's exhaust after-treatment includes a diesel oxidation catalyst and a selective catalytic reduction process that converts nitrous oxides into harmless nitrogen and water vapor. This eliminates the need for a DPF and the maintenance that comes with it, such as regeneration and filter cleaning.
Atlas Copco selected MTU, one of the world's leading manufacturers of large diesel engines and complete propulsion systems, because of the company's reputation in the industry and its emission solutions.
"MTU has a very strong service network in North America, and we feel its engine platforms fit our QAS generator range perfectly because they're designed for heavy-duty and demanding conditions that our customers experience on a day-to-day basis," said Rob Johnston, Atlas Copco factory product manager. "By combining MTU engines with Atlas Copco's engineering, we created reliable generators that provide predictable power for any application."
In terms of performance, the generator is equipped with a dependable alternator and easy-to-use controls. The Leroy-Somer™ AREP alternator ensures powerful startups and takes on large power loads. For example, an operator can use the generator either for prime power or critical standby power on construction sites. For varying applications and equipment, the operator uses the voltage selector switch to adjust the machine's output to 480, 208/240-V 3-phase settings, or 120/240-V single phase (60 hz). This versatility gives users greater flexibility on the jobsite and can increase utilization at rental centers. The generator is also capable of dual frequency – 50 or 60 hz – to create a reliable power source for any worksite, including shipyards.
With its standard Deep Sea 7310 controls, the QAS 275 generator is easy to set up and minimizes start-up times. The Deep Sea controls can include an optional telematics system that provides added security and helps minimize maintenance times. The system tells the operator how the generator is running and displays any operating issues. This allows the equipment owner to send out the necessary parts without having a mechanic inspect the machine first. With the telematics system the owner also can track the unit to pinpoint its location, either while it is being used or if it is stolen.
The generator's heavy-duty frame and enclosure withstand harsh working environments. The frame also plumbs engine fluids to the edge of the skid to eliminate the hassle of maneuvering drip pans into the interior space, and the standard spillage-free base frame is sized to contain 110% of all the machine's fluids. The frame is surrounded by a powder-coated galvanneal steel enclosure for a long-lasting, scratch- and corrosion-resistant surface. This protects the engine from debris and helps the generator maintain a high resale value. The enclosure also is sound attenuated to ensure operation at low decibel levels for operation on noise-sensitive jobsites, in residential areas or at events.
The QAS 275 comes standard with an easy-to-transport skid mount. Skid units contain forklift pockets for easy movement to a new location. Customers also have the option to mount the QAS 275 to a dual-axle trailer that is readily towed between worksites with its pintle hitch.
Source: Atlas Copco