Caterpillar Adds New High-Production B-Series Tandem Rollers
to the Paving Products Machine Family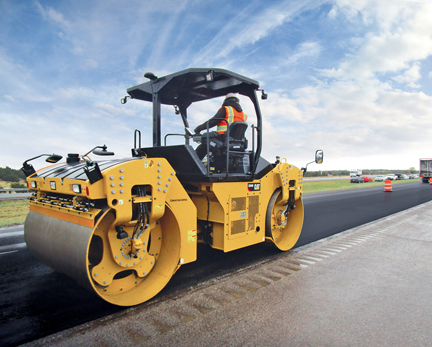 Caterpillar Inc. announces the addition of the new high-production B-Series Tandem Vibratory Rollers that include the CB64B, CB66B, and CB68B models.
These machines are 12 to 14 t compactors that feature wider drum widths, high-flow water spray system, increased operator comfort, and enhanced technology to help operators and machines perform at higher levels. Many of the technological enhancements are offered through Cat® Compaction Control. They include Auto-Adjustable Compaction (AAC), Pass-Count and Temperature Mapping, Machine to Machine Communication, and Compaction Meter Value (CMV).
Simple operation and optimized compaction help contractors lower costs. Auto-Adjustable Compaction optimizes compaction by delivering the highest amplitude possible without decoupling or overcompacting. The technology includes both the front drum and rear drum – a Cat exclusive. This unique system is able to adjust through the full range of amplitudes in as little as 4 seconds for excellent performance and uniform compaction throughout the mat.
Pass-Count and Temperature Mapping systems provide real-time visual references of the passes made and asphalt mat temperatures present. Distractions, fatigue, multi-tasking, and nighttime operation can affect how well an operator executes the rolling pattern on an asphalt mat.
Where did I stop on the previous pass? Did I go back far enough on the return pass? Did I provide enough overlap on the previous pass? Is the mat temperature too hot, too cold? These are just a few questions that operators may have throughout the day. By utilizing Cat Compaction Control technology, second-guessing can be eliminated.
Machine to Machine Communication system helps keep rolling patterns in sync by sharing coverage and pass-count maps between the operating displays of multiple machines. By viewing the color display, operators can monitor areas of coverage and the number of passes made. If a trailing operator sees an area of missed coverage, they can easily pick it up to ensure the entire rolling pattern gets the attention that is needed. This system is extremely helpful when performing echelon compaction when multiple machines are executing 5 or 7 pass rolling pattern.
Compaction Meter Value (CMV) technology uses a drum-mounted accelerometer to measure and record forces of the vibrating drums. A calculation derived from the recorded forces is used to create a unit-less value that provides an indication of stiffness. This unit-less value calculation is referred to as a "composite stiffness value" that indicates stiffness of the current and supporting layers beneath the drum. The system is capable of utilizing RTK level accuracy to provide the highest level of Global Navigation Satellite System positioning (GNSS) and is able to correlate compaction, frequency, and pass-count data to specific location.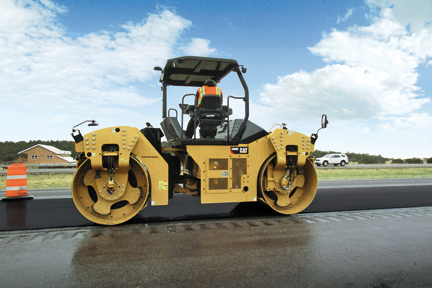 The Cat C4.4 ACERT™ engine meets U.S. EPA Tier 4 final emissions standard and provides 142 hp of power. Automatic Eco-mode operates at a variable engine speed to deliver excellent fuel economy and lower sound levels.
Visibility and comfort are enhanced by the standard 180° seating and optional 360° positioning. New handwheel steering technology eliminates the front steering console, enabling the operator to easily monitor water spray performance. An LCD display and push-button controls simplify operation for an all-around comfortable operating environment.
These models feature a newly designed center-articulating hitch with 6° of oscillation that ensures mat contact and a smoother ride over uneven surfaces. An offset hitch option extends coverage up to 170 mm and simplifies control next to obstacles. It delivers excellent performance on longitudinal joints by pinching the edge with the lead drum and sealing the joint with the trailing drum.
The CB64B is equipped with 2.0 m drums, while the CB66B and CB68B utilize 2.1 m drums. The B-Series tandem rollers offer a variety of vibratory options including dual amplitude, dual frequency, Versa Vibe™, and 5 amplitude systems. The Versa Vibe™ system creates a 2-in-1 machine with 4 amplitudes and 2 frequencies. This versatile system provides 2 settings for lighter hitting and higher working speeds on thin lifts; and 2 settings for heavier hitting, and slower speeds, on thick lifts or those with challenging mixes. The 5-amplitude system offers the widest range of amplitudes with a single frequency.
Reliable water spray systems are needed to keep rollers on the mat and on pace with the paver. The high-capacity system on these models are designed with dual spray bars, dual pumps, triple filtration, adjustable intermittent operation, and an optional freeze protection kit.
The dual pumps provide backup capability and alternate with the direction of travel to maximize service life. Clogging is prevented through filters at the fill point, water pumps and spray nozzles. The adjustable intermittent mode conserves water and minimizes refills for optimal efficiency. The optional freeze protection kit helps ensure the roller is ready when you need it.
Source: Caterpillar Inc.