TruStar Energy Completes the Largest Private CNG Fueling Station
in North America for FCA US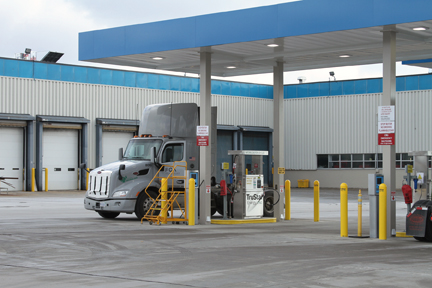 TruStar Energy, one of the U.S.'s leading developers of Compressed Natural Gas (CNG) fueling stations, announced recently that it has completed construction of a private CNG fueling station for FCA US LLC (formerly Chrysler Group LLC). Located at the company's North American Detroit Terminal, the CNG station will fuel 179 tractor trucks in FCA Transport's fleet with cleaner, domestically produced natural gas. With 6 Ariel compressors able to dispense CNG at nearly 40 gasoline-gallon equivalent (GGE) per minute, it is the largest private fast-fill station in North America.
"Allocating FCA US resources to convert the fleet to CNG not only yields the company long-term cost savings, it significantly reduces CO2 emissions and continues the company's leadership in the areas of technological advancement and sustainability. We're also sending a strong signal to the Detroit community that we're going to play a supportive role in the City's comeback," said Marty DiFiore, head of FCA Transport.
The FCA Transport fleet delivers parts and materials to FCA US assembly plants in Michigan, Ohio, and Ontario.
"With this new CNG station, FCA US is taking a leadership position in its industry and in creating a lower carbon future," said Adam Comora, president of TruStar Energy. "Companies that have fleets are beginning to take a longer strategic look at migrating their vehicles to domestic compressed natural gas. Even in a lower oil price environment, certain CNG applications still make economic sense providing significant cost savings while allowing corporations to make progress toward sustainability goals."
The largest private CNG fueling station built by TruStar Energy to date, the project was completed for the FCA Transport fleet in under 6 months – several months less than the industry standard of 12-18 months. TruStar Energy owns, will operate and maintain the station and will provide CNG for FCA US under a long-term supply contract.
"TruStar Energy worked closely with FCA US to build a tailored solution on a very aggressive time schedule. Getting it done quickly and on time with our partners and DTE Energy delivered significant cost savings for FCA US," said Scott Edelbach, general manager for Construction and Service Operations for TruStar Energy. "This station was specifically designed to meet FCA Transport's fueling needs today and tomorrow as they increase their CNG fleet."
The station features 6 Ariel 300 hp compressors packaged by ANGI, a PSB dual-tower gas dryer and 3 ANGI fast-fill dispensers.
TruStar Energy has constructed over a hundred private and public CNG fueling stations across the U.S.
Source: TruStar Energy