Hitachi Introduces ZX130-6, ZX160LC-6 and ZX180LC-6 Excavators
with T4f Engine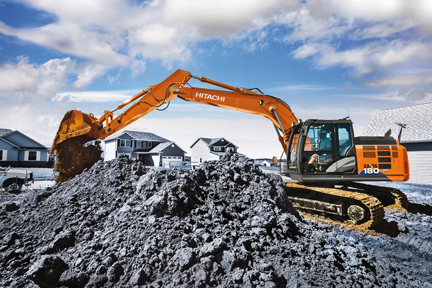 Hitachi Construction Machinery – Americas has upgraded 3 models of its successful excavator line to meet EPA Tier 4 final (T4f) emission standards. The ZX130-6, ZX160LC-6 and ZX180LC-6 are equipped with a powerful Isuzu engine complete with integrated, effective engine technologies and do not require a diesel particulate filter.
With the introduction of these machines, all 5 excavators in Hitachi's utility excavator line, which is designed for contractors working in the underground, road building, energy, commercial building and pipeline industries, are now T4f-compliant.The ZX210-6 and ZX210LC-6 models were upgraded in July of last year.
The Isuzu engines employ cooled exhaust gas recirculation (EGR), a diesel oxidation catalyst (DOC) and selective catalytic reduction (SCR). Diesel exhaust fluid (DEF) is injected into the exhaust stream of the engine, runs through a catalyst, and turns the NOx in the exhaust into harmless water vapor and nitrogen gas. The EGR is specifically tuned to further reduce NOx (compared to EPA Tier 4 interim (T4i) to meet new emission standards with minimal use of DEF.
Additionally, an improved piston design allows particulate matter to be burned in cylinder, so there is no need for a diesel particulate filter (DPF).
The ZX130-6, ZX160LC-6 and ZX180LC-6 come with an optional auxiliary function lever that provides proportional control for auxiliary hydraulic attachments to help improve productivity on the jobsite.