Selix Equipment to Sell Lintec Asphalt and Concrete Mixing Plants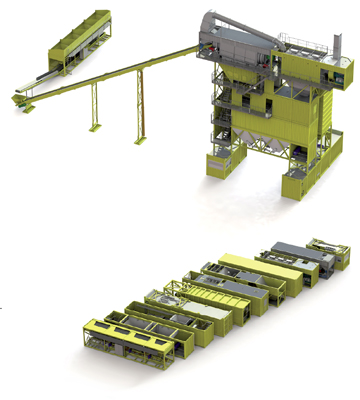 Lintec GmbH, manufacturer of asphalt and concrete mixing plants, is pleased to announce that an agreement has been made with Selix Equipment Inc. of Ottawa, Ontario, for the sales and service of their mixing plants. Lintec, with over 70 years of experience in the industry, is the first to realize that high quality in machinery does not only come from high quality material production, but can also arise from a clever plant design. Therefore, back in the 80s the decision was made to adopt modular construction using only 100% ISO-certified sea containers for easy transportation to the job site and a fast erection of the asphalt and concrete mixing plants.
When talking about mobility, the container structure can be the key argument in the actual investment decision. The transport of heavy machinery often requires permits, escorts and complicated logistics, which increase substantially the cost of a move. "The freight costs when purchasing a new plant from Lintec have been found to be around one fifth of other manufacturers for comparable sized plants in conventional design," says Jean-Paul Aubé, sales manager at Selix Equipment.
Savings can be found not only in the initial transport costs, but also, and especially, in the field. The possibility to easily relocate the plant can be a crucial advantage when the distance between the production plant and the work site pose problems.
With a Lintec plant, there is no need for permissions to transport containers. Relocating decisions can be made quickly and by on-site personnel reducing costs and time for new site preparations, erection and dismantling. The plant design using containers eliminates the need for concrete foundations – in most cases compacted ground is sufficient.
Furthermore, container handling is easy. A crane for erection or dismantling is only needed for about 20 hours, enabling the relocation of an operational Lintec plant within a week.
The mobility of heavy machinery can grant strong benefits in the construction business. It can enable contractors to better utilize their asset, allocating resources where capacity is in demand. In addition, the Lintec container concept is focused on sustainability with energy efficient and with an environmental sound design.
Source: Selix Equipment Inc.,
LINTEC GmbH & Co. KG