ASV RT-120 Forestry Compact Track Loader Brings Leading Size,
Power and Durability to the Forestry Industry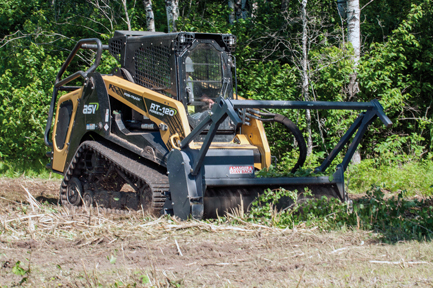 ASV, LLC introduces the Posi-Track RT-120 Forestry, the largest and most powerful compact track loader in the industry. The large-frame RT-120 Forestry features more power and productivity with less ground disturbance than any other machine in its class.
Maximum power and torque, along with unparalleled cooling capacity, make the RT-120F capable of using the largest attachments for long periods of time without bogging down or overheating. The rugged machine makes mulching, brush cutting and highway and utility work faster and easier. Like all ASV equipment, the RT-120F includes maximum efficiency hydraulics and innovative, high-capacity cooling systems that allow for more work done in less time. In addition, the machine achieves versatility on all surfaces – from mud and brush to ice and snow – using ASV's patented Posi-Track undercarriage. It provides industry-leading serviceability, ground clearance, ground pressure, traction and track life.
"ASV is on a mission to earn recognition as the industry leader in the high end of the market with our larger machines by offering superior performance, productivity and ROI. Our customers come first, that's why we make sure they have machines that stand up to the tough jobs they face every day," said Jim DiBiagio, ASV general manager. "The RT-120 Forestry easily meets that demand with its size, strength and rugged design. We really mean it when we promise maximum performance with no compromises!"
The RT-120F is also available in dirt and road profiling configurations.
Source: ASV, LLC