Mack® mDRIVE™ Transmissions Gain New Performance, Safety Features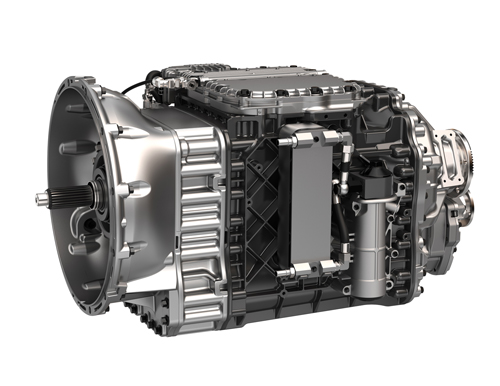 Mack Trucks recently introduced Mack® mDRIVE™ rolling start and auto neutral, 2 new features designed to improve the jobsite performance and safety of trucks equipped with Mack's mDRIVE and mDRIVE HD automated manual transmissions. Both features are standard on all Mack mDRIVE and mDRIVE HD transmissions. Mack made the announcement at World of Concrete 2017 in Las Vegas.
Mack mDRIVE rolling start allows drivers to shift the transmission into drive without pressing the truck's service brakes. This eliminates the possibility of creating a bump in the paving surface, which is a critical benefit for paving applications.
Several construction applications, including concrete mixers, rely on remote throttle controls. By automatically shifting the mDRIVE into neutral when the parking brake is set, Mack mDRIVE auto neutral helps improve jobsite safety by reducing the possibility of the truck moving due to throttle application.
Engineered to work exclusively with Mack's MP® series engines, mDRIVE and mDRIVE HD automated manual transmissions are a key component of the Mack integrated powertrain, boosting efficiency, productivity and performance.
Mack mDRIVE and mDRIVE HD penetration reached record levels in Mack Pinnacle™ Axle Back and Mack Granite® models sold in the U.S. and Canada. With the new low-ratio creeper gears and these new features added, Mack is on track to double mDRIVE HD penetration in Granite models in 2017.
Originally introduced in 2010 for highway applications, the Mack mDRIVE transmission transformed trucking by eliminating traditional shifting. With no clutch pedal or shift lever to work, drivers can remain focused on the road ahead. mDRIVE transmissions monitor multiple driving variables through sophisticated software to deliver smooth shifts and automatically select the best gear for conditions. Mack made mDRIVE standard in Pinnacle models in 2014.
The mDRIVE's benefits did not go unnoticed by vocational customers, who sought the efficiency and performance improvements in construction applications. In response to their requests, Mack launched the rugged mDRIVE HD in 2015 and made it standard in Granite models. With reinforced internal components, the mDRIVE HD can withstand the tough demands of vocational applications.
In 2016, Mack expanded its mDRIVE HD offer with 2 new versions featuring low-ratio creeper gears. The Mack mDRIVE HD 13-speed offers a low reduction gear ratio designed for easier starting on steep grades or when the truck is under heavy load. The Mack mDRIVE HD 14-speed, available only in an overdrive configuration, adds a second ultra-low-speed reduction gear designed for curb pouring applications or low-speed, heavy-haul maneuvering. Both transmissions offer up to 4 reverse gear ratios.
Source: Mack Trucks