Morbark Introduces Partnership, Debuts Trommel Screen
at COMPOST2017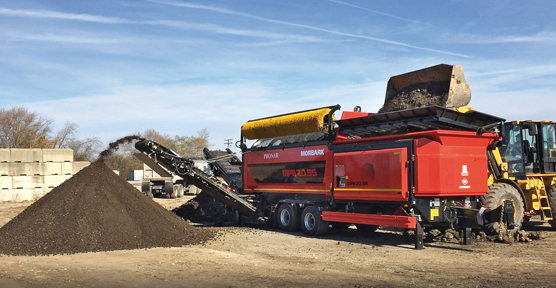 Morbark, LLC demonstrated a trommel screen at this year's COMPOST2017 show, the U.S. Composting Council's Conference and Tradeshow, held January 24-26, 2017, in Los Angeles, California.
Morbark has entered into a partnership with Pronar, a company based in Poland that specializes in the manufacture and sale of machinery and equipment for agriculture, municipal services and transportation industry.
"Morbark has the largest and broadest product lines for the recycling market," said Michael Stanton, Morbark Industrial Products director. "Expanding our product offerings further by partnering with Pronar to provide high-quality mobile trommel screens greatly benefits our customers who wish to expand their capabilities."
Available in 4 sizes, these mobile trommel screens, which will be co-branded Morbark and Pronar, are perfectly suited to work with a wide variety of materials, including soil, compost, municipal waste, coal, aggregate and biomass. The easy-to-use electronic controls allow the operator to tailor the operation parameters to the materials to be separated. A variety of drums are available to meet the customer's specific needs, with round or square holes and of any mesh size.
Source: Morbark, LLC