More Flexible Gearboxes for Powerful Mobile Hydraulic Applications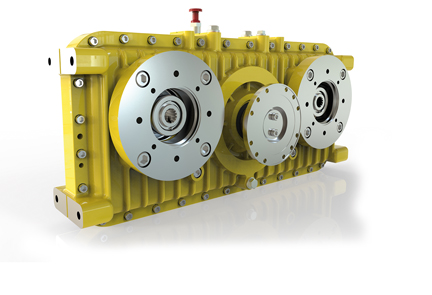 Stiebel Drive Technology is exhibiting advanced drive solutions for greater energy efficiency and electric mobility applications at CONEXPO-CON/AGG in Las Vegas next month.
The shift towards new mobile hydraulic applications goes hand in hand with sophisticated and commercially effective systems which are capable of mastering the growing challenges under the toughest conditions. With their adaptable and high performance gearboxes, the specialists at Stiebel Drive Technology are developing the appropriate technologies – ones that also score in terms of energy balance.
One convincing drive solution is the Stiebel type 4652 transfer gearbox which is used in mobile tracked drilling rigs for instance. The massive casing ribbing and the geometric offset of the drive/take-off shafts deliver an improved energy balance. This normally renders an additional oil cooler unnecessary. With its Pmax of 700 kW, T2max of 3300 Nm and maximum rotational speed nmax of 2500 rpm, sustainable and economical drilling operations are supported.
A further development is the compact type 4669 summation gearbox. This unit can be fitted directly to 2 integrated electric motors. Thanks to the high degree of production tolerance (radial and axial runout) of the power transmitting components, the massive block casing, the manufacture of assemblies and the excellent quality of the gearing, a high degree of operational reliability and smooth running are ensured. Stiebel has developed the summation gearbox primarily as a sustainable tractive force for medium and heavy-duty electric commercial vehicles and mobile working machines. The solution can alternatively be designed to accommodate a generator which is driven via a cardan flange.
Stiebel Drive Technology is also providing highly adaptable support for diverse ideas in the area of mobile hydraulics with its single-stage type 4382 transfer gearbox from the P2000 series. Following the proven modular design principle, this torsionally stiff gearbox offers a range of different mounting variants. Connection is possible via a cardan flange or SAE case. On the take-off side there are 3 pump connections with freely selectable SAE connectors. With its weight of 200 kg and block casing, this compact gearbox offers space-saving integration possibilities. The lubrication of all relevant components is undertaken by a special system with internal ribbing and oil grooves. Technical facts relating to the pump drive: Maximum torque per drive is 1500 Nm with maximum rotational speed up to 3000 rpm at a motor power of 530 kW and a transmission ratio of i = 0.6572 to 1.5217.
The type 4395 transfer gearbox with integrated, drive-side clutch offers many different drive options, such as diesel-electric hybrid solutions for instance. The very large shaft spacing of the power take-off shafts in inline configuration (achieved with offset intermediate shafts) allows large motor components up to SAE size 0 to be fitted, both in drive and direct drive mode, and simultaneously hydraulic drives up to SAE size E to be driven by the drive shafts on both sides. The benefits are particularly apparent in terms of the optimized – and therefore environmentally friendly – energy and fuel consumption figures.
A different solution is offered by the type 4611 pump drives which are equipped with 2 different transmission ratios at the pump take-offs. This facilitates optimum output speeds for various types of hydraulic pump. The Stiebel gearbox is ideally suited for use in snow groomers or utility vehicles.
With these and other ideas, such as the B2000 intermediate gearbox range which has undergone continuous development and proven itself in operation for 40 years, Stiebel Drive Technology continues to set the standards in the field of drive technologies. Visitors to the CONEXPO-CON/AGG trade show will discover the benefits for themselves.
Source: Stiebel Drive Technology