New BOMAG BM 2200/75 Cold Mill Built for Power,
Production and Efficiency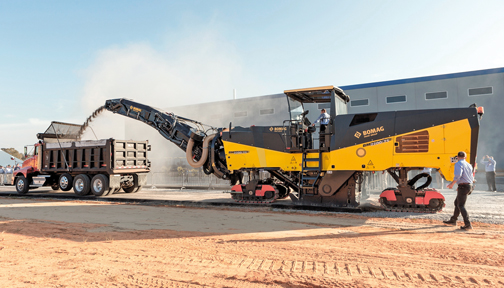 With its powerful 760 hp (567 kW) diesel engine, the BOMAG BM 2200/75 delivers high-performance milling of half-lane widths reaching 2,2 m at precise milling depths of up to 350 mm. Offering a range of quick-change milling drums options and efficient transition of engine to milling power, this largest cold mill in the BOMAG product line is ideally suited for high performance applications such as major county roads, highways, interstates and airports.
Perfected over decades of design research and field experience, BOMAG's unique BMS 15 milling tooth holder system delivers superior milling productivity with low wear.
The base tooth holder features a maintenance-free bolt-on design that does not require retightening to reduce service time. Featuring a low-resistance profile, the tapered tooth retainer claw delivers more cutting power with less wear. When cutting tool changing is required, the holder's quick-change design requires approximately 25% of the time required to change a full set of teeth compared to conventional systems, increasing machine uptime availability.
Built with high quality hardened materials, the milling drums for the new BM 2200/75 feature optimized cutting tooth arrangement for high efficiency asphalt removal. The base section of the cutting tool holder is identical for all drums, giving contractors a lower cost for replacement parts. Material ejector plates boast a symmetrical design, so they can be rotated and used twice, cutting replacement costs in half. The drum's heavily loaded edge cutter is protected by high-performance hardened chromium carbide wear elements to increase service life, and easy access to the tool edge shortens the time for tooth exchange. With the machine's quick-change drum design, contractors can easily switch from the standard drum for general milling to a fine milling mandrel for close tooth spacing to the power drum for demanding applications.
Source: BOMAG Americas, Inc.