JCB Showcases Compact Equipment
at Landscape Ontario's CONGRESS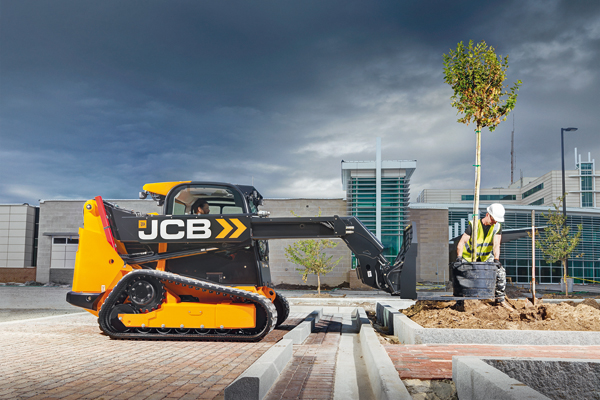 JCB displayed the 3TS-8T Teleskid and 48Z-1 compact excavator at the 2018 Landscape Ontario's CONGRESS trade show.
Additionally, the JCB 215 skid steer loader – the latest in the company's range of skid steer and compact track loaders built in North America – made its Canadian debut.
"JCB machines provide Canadian landscapers with the power and performance they demand, and the build quality and reliability they need to be successful in our challenging environment," said Trent Fedak, general manager of sales for JCB in Canada. "The Teleskid, in particular, is a game-changer, allowing operators to lift higher, reach further and dig deeper than with any other skid steer on the market."
The JCB Teleskid is the world's only skid steer and compact track loader with a telescopic boom, allowing operators to lift above 3.9 m, reach forward 2.4 m and dig 1 m below grade. It is also the only skid steer to combine the advantages of vertical and radial lift capabilities in a single machine. The Teleskid is equipped with a 74 hp (55 kW) JCB EcoMAX engine, requiring no diesel particulate filter (DPF) or diesel engine fluid (DEF). Available wheeled and tracked models offer rated operating capacities of 1,455 kg and 1,676 kg, respectively.
Another highlight on the JCB booth was the Canadian debut of 215 vertical lift skid steer loader. Designed as a small-platform skid steer with large-platform capability, the JCB 215 is powered by the 74 hp (55 kW) JCB Diesel by Kohler engine, requiring no DPF or DEF, and features the iconic JCB Powerboom™ with side-door entry. The 215 wheeled skid steer has a rated operating capacity (ROC) of 958 kg in standard configuration or 1,024 kg with an optional dealer-fit counterweight package. The 215 is also available as a compact track loader, with an ROC of 955 kg in standard configuration or 970 kg with the optional counterweight package. A similarly capable 210 radial lift model is also available in skid steer and compact track loader configurations. All 215 and 210 machines are capable of operating high flow attachments up to 113 l/min.
The JCB 48Z-1 compact excavator drew a lot of attention. This zero tail swing machine boasts a JCB Diesel by Kohler engine that produces 48 hp (36 kW) and 166 ft lbf (225 Nm) of torque. A fully bushed dig end with 500-hour greasing intervals reduces downtime and daily maintenance, cutting total cost of ownership for the customer and increasing productivity.
Source: JCB North America