Spider's Canadian Distributor Wins Best Booth Award at LO Congress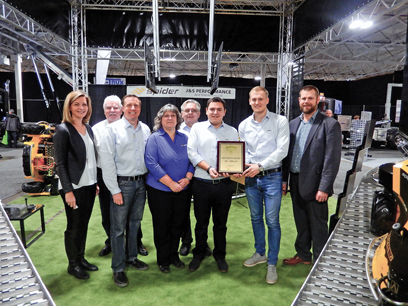 J&S Performance, the family-owned Canadian distributor of Spider remote-controlled slope mowers, had a very successful expo at the Landscape Ontario's Congress, culminating in the award for the best booth in the 37-74 m2 category.
The award-winning booth at the expo, held at the Toronto Congress Centre early this January, featured a selection of Spider's unique 4-wheel drive, 4-wheel steer multi-terrain mowers and attracted a very healthy number of visitors during the 3-day event.
Manufactured in the Czech Republic by Dvorak-Svahove Sedkacky S.R.O., Spider mowers are built to tackle the tasks that are considered too dangerous for operators to complete alone. They can climb slopes up to 55° with the assistance of an integrated stabilizing winch and are able to cut down all vegetation that the machines can push over. With safety and productivity in mind Spider mowers are an affordable option that keeps operators safe, while keeping jobsites maintained to the highest industry standard.
"That was a great show; we had excellent footfall across the booth and a lot of interest in the products. This is our 3rd visit to the Landscape Ontario Congress and each year has just gotten better," said Scott Ruttan, managing director of J&S Performance. "We were unknown 3 years ago, but the exposure here and through our membership of LO trade association has certainly helped us establish the brand and move product. We are still looking to expand our dealer network across the country and had several interested parties talking to us. We will be following up on these, and the sales leads, in the next few weeks. To win the best booth award in the major category at the show was a significant step for us, especially when you look at the prestigious exhibitors in the hall. To say we are delighted is an understatement."