APEX® Hydro Seed Applicators Discharge Viscous Slurries for Seeding and Environmental Spray Applications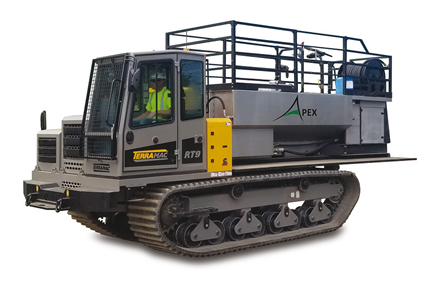 APEX® by Fecon introduces their lineup of hydro seeding and environmental spray applicators for off-road environments. These include pipeline seeding, landfill top cover, landfill ADC, slope stabilization, fire reclamation, land improvement, and more.
Designed for the rigors of off-road use, these applicators provide the durability needed for remote applications, including rubber track-mounted options, units fitted with oversized floatation tires or tracks, and other options to simplify remote, off-road projects. Large pumps and agitation systems mix the most viscous of matrixes and keep them in suspension in the stainless-steel body until ready to discharge through the vortex pump at distances of up to 99 m. 
Designed to maximize productivity and profitability, APEX® hydro seed applicators can hold and distribute more slurry, yielding more coverage per tank load.  Each component is designed for material versatility, durability, extremely low maintenance, and a long service life. A stainless-steel mixing tank with corrosion reducing materials for the tank top and working platform greatly reduces the maintenance required. A raised loading hatch, a fully-enclosed engine compartment, and an innovatively designed hydraulic system maximizes efficiency while eliminating the high maintenance demands of traditional hydraulic systems. The innovative APEX® power pack design is removable, replaceable, and upgradable to extend the life of your tank while keeping up with the latest technologies and requirements for engines and pumps. 
Originally created by one of the industry's leading contractors, APEX® Applicators are professionally designed, manufactured, and supported by a team that has global experience in hydro seeding and environmental spray on applications. Each member of the APEX team has over 10 years of experience in the environmental equipment industry. They understand and work to fill the specific requirements of project sites and contractors, as evidenced by the fact that they have demonstrated, started up, or supported equipment in the spray-on market in over 35 countries.
Source: Fecon, Inc.